100 Calories of Snack From Russia
Have you ever wondered what snacks exist in other countries? Well, Snack Girl is on the case!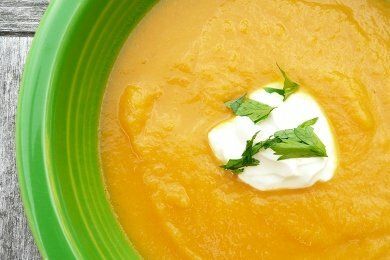 Back in May, my FIRST press interview came from (guess where?) Russia! A Russian health website featured Snack Girl (Cheeseburger Post) and then I took the opportunity to interview the reporter who contacted me.
Xenia, editor of the health website, lives in Moscow. I asked her about the snack habits of Russians. She told me that Russia has fast food venues that serve healthy national dishes such as kasha (buckwheat) and borscht!

Can you imagine being served a whole grain dish and a vegetable soup at McDonald's?
Or how about a 100 calorie snack pack of soup? (I should patent that idea :)
So, since May, I have been wanting to make borscht (beet soup) and here is my chance! My farm share has been sending me home with beets. Check them out: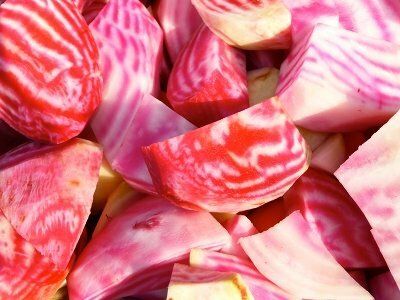 Aren't they gorgeous?
This is a really simple soup to make and it only has 100 calories per serving before you add the sour cream. The highest calorie sour cream is 30 calories per tablespoon and you only need a little bit to make this soup POP.
I recommend using the sour cream to add flavor and a little more protein (especially if you are hungry). Plain this soup is good, with sour cream this soup is delicious.
This is a great snack when you need a little comfort. Instead of reaching for a This Muffin Has a Dark Secret, try serving yourself a bowl of sweet soup. You get to have a nutritious snack and you feel comforted,
The only real pain here is peeling the beets. Get yourself a really good vegetable peeler and this will be a snap! Also, remember not to overfill your blender. Anyone who has made that mistake and spread their kitchen walls with pea soup (me!) will never forget to only fill it halfway. (and hold the lid down!)
You can use carrots for this soup as well. I used a carrot because I didn't have enough beets and that is probably why the soup is orange instead of pink.
---
Borscht (or Beet Soup) Recipe

(serves 6)
1 tablespoon olive oil
1 onion
2 pounds beets
1 can (14.5 ounces) chicken broth
salt and pepper to taste
sour cream (optional)
chopped parsley for garnish (optional)

1. Peel and cut beets into 1 inch chunks. Coarsely chop onion.
2. Heat a large dutch oven or pot over medium heat. Add oil and onion and cook, stirring occasionally, until softened, 5 to 7 minutes.
3. Add beets, broth, and 3-4 cups water (enough to cover) to the pot. Bring to a boil, reduce to a simmer. Simmer until beets are tender, about 30 minutes.
4. Using a blender, puree soup until desired consistency. Remember not to fill the blender past half way. You will have to puree in batches. Add salt and pepper to taste.
5. Add dollop of sour cream and parsley and enjoy!

Please share your ethnic snack ideas!
---
$12.25 Buy on Amazon.com
As an Amazon Associate, I earn from qualifying purchases.
---
Want to read about snacks?
Are High Fiber Pop-Tarts a Healthy Choice?
You Have Never Had Beef Jerky Like This!
DIY Packaging Tricks For Healthy Snacks
Mix It Up For A Delicious Snack