Mix It Up For A Delicious Snack
Do you sometimes get bored with the same old snack? Perhaps the snack you brought to work is SO dull, you make a little trip to the vending machine.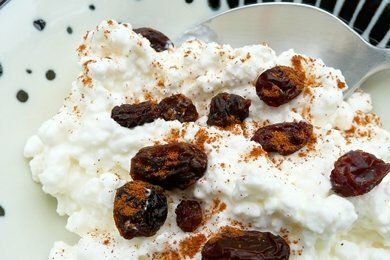 Don't do it! All you need to do is dress your snack up a bit. Take it out for a makeover so you won't be tempted to satisfy your hunger with something crappy.
One way to dress things up is to add some spices. Cinnamon is one of my favorite spices. because it makes me think of apple pie and cinnamon buns. Aaah, cinnamon buns....
For this snack, I used cottage cheese. I absolutely love cottage cheese and I have never featured it on Snack Girl (shame on me!). It is naturally low in calorie, delicious, and full of protein and calcium.
One half a cup of 4% milkfat is only 120 calories, and lowfat cottage cheese is 90 calories. True confession: I prefer the higher fat content cottage cheese.
I actually got into an argument with an MD about cottage cheese. She pointed out to me that the removing the fat doesn't do anything nutritionally to the cottage cheese. While I understand that the lowfat cottage cheese remains the same, I think it tastes less delicious.
This is a real dilemma! Am I more concerned about my waistline or the tastiness of my snack? Well, I choose tastiness and I just try to eat less of it than if I was eating the lowfat cottage cheese. Portion size is as important in losing weight as well as making healthy choices.
Another important factor about cottage cheese is that different brands tend to taste REALLY different. I been unable to eat some brands that I have found in the supermarket. My favorite right now is Friendship - California Style.
I'm not sure what they mean by "California Style". Perhaps the cows went surfing before they were milked.
Other great foods to mix in cottage cheese are pineapple, cantaloupe, chopped dates, and apples.
Give this recipe a try and tell me what you think!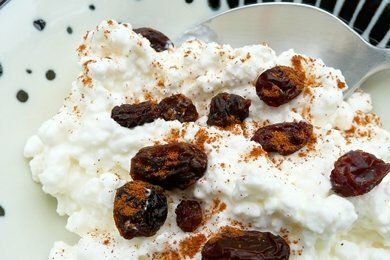 Cottage Cheese, Raisins, and Cinnamon
1 serving
Ingredients
1/2 cup low fat cottage cheese
10 raisins
1/4 teaspoon cinnamon
Instructions
Measure out cottage cheese into small bowl. Add raisins and a dusting of cinnamon. Enjoy!
Nutrition Facts
104 calories, 1.2 g fat, 9.1 g carbohydrates, 14.2 g protein, 0.6 g fiber, 460 mg sodium, 2 Points+
Points values are calculated by Snack Girl and are provided for information only. See all Snack Girl Recipes
What do you mix in your cottage cheese?
Want to read about snacks?
Healthy Choices in Vending Machines
Guess What's in The Picture
Have a Healthy Brownie! (a Mere 77 Calories)
Want Your Kid To Eat A Healthy Snack? Use a Stick
---
Get Free Email Updates! Yes please!
---