Try This Breakfast Solution: Faster and Healthier Than Cereal
Are you running out of time every morning and grabbing a cereal bar? Try this instead.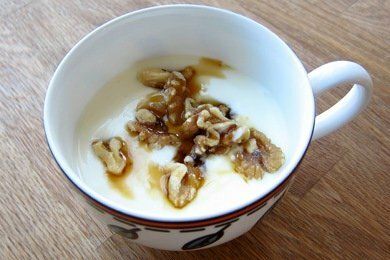 Start with a container your favorite PLAIN yogurt. Many brands sell 6 ounce containers of plain yogurt such as Chobani and Fage. I have seen both non-fat and 2% fat yogurt.
I prefer eating the yogurt with the fat included because it tastes better and this is BREAKFAST. This is the meal that sets up the entire day of energy and mood. Do I want to be hungry and grumpy at 10 AM? Nooooo.
Then I add some plain nuts. In this case I added raw walnuts, but roasted almonds, peanuts, hazelnuts, etc. would be a great addition. Choose the one you like the best (without the salt).
Toss them into the container or cup and mix in a healthy sweetener such as Honey or Maple Syrup and enjoy. The idea here is to make it really delicious and satisfying even if you only have 3 minutes for breakfast.
The calorie count here is going to range depending on what you put in. I don't think it is a good idea to obsess about breakfast calories when you are making a healthy choice.
If you are downing a cinnamon bun and a large mocha latte, perhaps you should review the calories of your breakfast :)
Here are the raw numbers for my breakfast as pictured above:
Chobani Lowfat Yogurt - 6 ounces - 130 calories
Walnuts - 1/4 cup - 210 calories
Maple Syrup - 1 tablespoon - 52 calories
So you are looking at about 400 calories total in this breakfast - compared to the cinnamon bun and the latte - you did pretty well!
Do you have a variation on this breakfast?
Want to read about snacks?
Want To Feel Like Super Girl?
Amazing Toddler Snacks From La Jolla Mom
Try This New Year's Snack: Veggie Shots
Love Sliders? Here Is A Healthy Version