A Ridiculously Simple and Elegant Party Snack
How can something be so delicious yet so utterly simple? Sometimes less is more when it comes to food.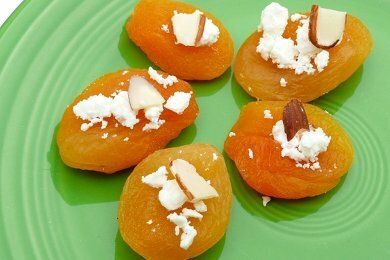 Dried apricots are yummy all on their own, but it is easy to make them luxurious. Just add a little cheese and you have something mind altering.
The sweetness of the apricot versus the salty, creamy cheesiness of the cheese makes this snack delightful. It looks great on a platter and everyone will think you are a genius for combining these ingredients.
You could have this as an after school snack or a post exercise snack. Of course, it isn't very transportable so I would stick to eating it at home. If I was a caterer, I would put these together on site.
The cheese I chose to use is feta (because it is one of my favorites), but blue cheese or gorgonzola would also work. Also, you could use any type of nut you have in your cupboard such as hazelnuts or cashews.
You can have A LOT of fun trying different taste combination to get this small bite to become EXPLOSIVE. That is a great thing about this snack. For your 30 calories, it is healthy and it is very tasty.
Packing a lot of flavor into a small bite is a great way to eat less. The more satisfying the taste, the less you will want to eat. I have a problem with bland tasting cheese because I can eat it all day. Ummm, it is not a good idea to eat cheese all day :)
Try it and let me know how it goes!
Please share your small bite snack ideas.
---
Apricot Bites Recipe

(makes 10)
10 dried apricots
1 small package feta cheese
slivered or sliced almonds

Press your finger down into the center of the apricot to make a fingerprint (remember to wash your hands!). Pinch some feta cheese and press it into the apricot. Place an almond slice into the cheese. Enjoy!
Want to read about snacks?
100 Calories of Snack From Russia
Guess What's in The Picture
Are High Fiber Pop-Tarts a Healthy Choice?
Snack Girl Disappears