The Easiest To Implement Healthy Food Travel Tip
Okay, let's say you are like Snack Girl on a recent trip and forgot your snacks. You pull into a place like the one above.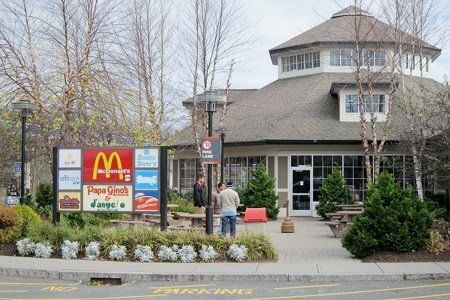 In case you are wondering, this is a rest stop on the Massachusetts Turnpike. What was I doing there? Well, I raced out the door without breakfast and didn't pack any food to take with me.
First rule of a road trip, pack your snacks.
I'm not great at following rules myself (or speed limits) so I forgot this rule and was stuck foraging on the side of the road. What is on the side of the road, other than roadkill? Fast food.
It was here that I remembered yet another talk that I attended at the Food & Nutrition Conference and Expo. The speaker absolutely fascinated me because she insisted that you could get healthy food at fast food restaurants which she called QSR's (Quick Service Restaurants).
She told a story of how she visited Barcelona, Spain and was turned off by the local breakfast (a fluffy sweet bread pastry and a coffee). She was so upset by the breakfast cuisine of Barcelona, she went to find a McDonald's.
No, I'm not kidding. It was at this point in the talk that I began to worry that someone from Spain was in the audience. Ummmm, isn't the point of visiting other countries to enjoy them? Try something new? Sample local cuisine? Oh dear.
But, she went and found a McDonald's and ordered (and here I was very curious what a Registered Dietician was going to get at McD's) an Egg McMuffin. This is the good part. She ordered it WITHOUT the cheese and the ham and got two egg patties instead.
Here are the nutrition facts for the regular Egg McMuffin (with ham and cheese):
300 calories, 12 g fat, 5 g saturated fat, 30 g carbohydrates, 3.0 g sugar, 18 g protein, 2 g fiber, 820 mg sodium, 8 Points+
Her version which had no ham or cheese and TWO egg patties:
320 calories, 14 g fat, 4.5 g saturated fat, 29 g carbohydrates, 1.0 g sugar, 19 g protein, 2 g fiber, 425 mg sodium, 8 Points+
My guess is that she liked the lower amount of sodium with this choice. She did cut it down quite a bit without the ham and cheese.
So here I am standing at a McDonald's at 10 AM and I am hungry. I found myself saying, "I would like an Egg McMuffin without the ham, cheese, egg, or English muffin."
Just kidding!
I ordered it without the ham and cheese and just had an egg sandwich. I realize that it was a boring choice but it worked in the desperate situation in which I found myself.
Here is my version - with just one egg patty and some ketchup:
240 calories, 9 g fat, 2.5 g saturated fat, 28 g carbohydrates, 2.0 g sugar, 12 g protein, 2 g fiber, 350 mg sodium, 6 Points+
I slashed both the calories and the sodium and had a healthier sandwich. No, it wasn't great, but it kept my tummy from rumbling.
Second more useful rule of road trips: Customize your order.
No one blinked when I changed the mighty Egg Mcmuffin and when you say things like "no mayo" or "no cheese", you can make a dent in the calorie bombs that these places serve.
Yes, you are being finicky like Meg Ryan in "When Harry Met Sally", but why not give it a go? Add more tomato or lettuce, skip the bacon, cheese, or sour cream.
My guess is that you are on a road trip to a Thanksgiving meal. Save your calories for the homemade love that awaits you.
Please share your customization tricks.
---
Other posts you might like:
---

Why is this baby upset? He is about to join the 42 million Americans that will travel for Thanksgiving....
---

Here we go! The holiday eating season is coming soon. Are you prepared?...
---