Rethink Your Breakfast: Turkish Style
Snack Girl has been fortunate to visit Turkey twice in her 43 years. Both trips taught me so much, and I remember them vividly.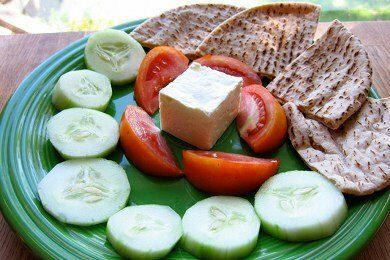 My memory of Turkey is so good because my brain was AWAKE for it. Every morning, I was served something like the above photograph.
The photo above is my Massachusetts representation of a Turkish breakfast - I forgot the olives, hard boiled (or soft boiled) egg, and the yogurt, honey, butter, and jam (perhaps my memory isn't so good after all).
What I DID remember was the feta-like cheese, cucumbers, tomatoes, and bread because I loved this combination. Many breakfasts in Turkey were served buffet style so I could make my own selections and this was what I chose.
Why would this breakfast be so revolutionary to an American? Of course, I tried many times to order Cheerios and Corn Flakes, but no one knew what I was talking about :)
Well, I couldn't quite believe I was having cucumbers and tomatoes for breakfast!! Why hadn't I been served this before? I happen to love both of these fruits (sometimes called vegetables).
This is so ridiculously simple and refreshing as a snack, breakfast, lunch, or even dinner (change portion sizes accordingly). The saltiness of the cheese plays off the sweetness of the fruits.
The preparation time is just a bit more than pouring your milk into your cereal and it feels so luxurious to have 4 different foods on your plate.
Give me my java and this plate and I am in heaven (and I don't get hungry before lunch).
The sodium is a bit high here because of the saltiness of the cheese. If you are watching your sodium - eat less cheese and add a soft or hard boiled egg.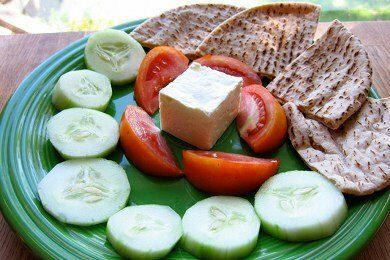 Turkish Breakfast Recipe
(serves 1)
Ingredients
2 ounces feta cheese
1/2 cucumber sliced
1/2 ripe tomato sliced
1 whole wheat pita bread
Instructions
Put on plate and enjoy!
Nutrition Facts
337 calories, 14.3 g fat, 38.9 g carbohydrates, 16.3 g protein, 6.1 g fiber, 876 mg sodium, 9 Points+
Points values are calculated by Snack Girl and are provided for information only. See all Snack Girl Recipes
Other posts you might like:
---

Last week, I introduced Fall with a no bake pumpkin oatmeal cookie. But, I had a problem....
---

Awwww, ma, raw veggies AGAIN! Yes, I know it is difficult but there is nothing healthier....
---
---
Get Free Email Updates! Yes please!
---