A Zero Calorie Drink With A Twist
Drink manufacturers know that Soda is harming many people. They want to help you end your Soda addiction with a bunch of new flavored and low calorie alternatives.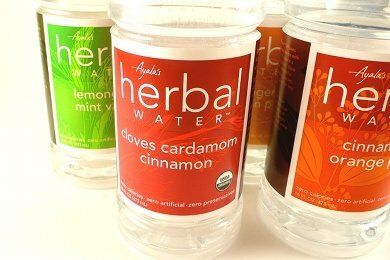 While I have never been addicted to soda, I do LOVE beer. When I was pregnant with my first baby, Ruby, I decided to give up beer (hey, have you read the label on the side of the can? yikes!) It is one of my all time favorite drinks and I was having a tough time.
My solution was to drink Pelligrino. Why? Because, the bubbles and the lovely green bottle made me feel pampered. I found cheap cases of it at Costco and sipped away at my sparkling spring water with a squeeze of lemon.
What I learned was that you can replace a bad habit with a better one relatively easily IF you give yourself a treat. Herbal Water is designed to be a treat. It costs $1.49 -$1.69 a bottle and it has a very distinct flavor.
They have designed flavors with organic herbs such as lavender, mint, and geranium. Some of the waters have a very floral taste, not unlike a floral white wine.
From Herbal Water:
Culinary herbs have been prized for centuries, for their calming, stimulating and aphrodisiac qualities, and are the natural way to flavor and enhance any food or drink. You'll find Ayala's Herbal Water a delightfully refreshing, mellow yet complex aromatic drink. Enjoy our taste of the garden, with fresh spring breezes in every sip.
My favorite is the cloves, cardamon, and cinnamon. Herbal Water combined the extracts of the herbs to sweeten the water! So, no calories, and a sweet taste and nothing artificial and the herbs are USDA certified organic.
Now, I know that there are some eco-groovies that read this website. And I just wanted to say that I don't agree with drinking a lot of bottled water. From About.com:
If you imagine that every bottle of water you drink is about three-quarters water and one-quarter oil, you'll have a pretty accurate picture of how much energy it takes to put that bottle of water in your hand.
So, when you need a drink, want to give up soda, and forgot your water bottle, Herbal Water is an excellent choice.
I gave up bottled water and use a soda stream to make my water fizzy. Check out my post here: A zero calorie alternative to soda
And, check out Herbal Water for store locations and ordering information.
This product was received for review consideration. No other compensation was provided.
What is your favorite brand of water?
Want to read about snacks?
This "Juice" Has HFCS and More Sugar Per Serving Than Soda
Do NOT Be Afraid of This Vegetable - In Season NOW and Yummy!
Turn Cauliflower into YUMMYflower
Beyond Hard Boiled Eggs