What TO Have for Breakfast
Snack Girl is obsessed with breakfast. Why? Because, it is the most important meal of the day and so many of us skip it or eat the wrong food.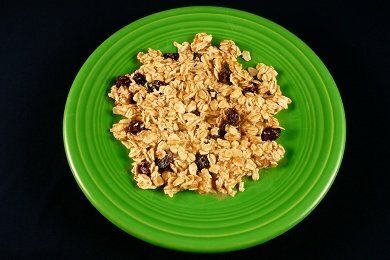 What food am I talking about? Well, Kashi GoLean Review is one example of a cereal that has WAY to much sugar in it to be a truly healthy breakfast.
In fact, since I wrote my Candy or Breakfast? Evaluate Your Cereal post, I have had A LOT of trouble finding a decent cereal to feed my family (Cheerios was one exception). What to do?
In January, I wrote a post - No Bake Nut Butter Oatmeal Cookie - and it really took off here at home. My children demand their "Breakfast Cookie" every morning and I was having trouble with their demands. Alex wanted raisins and chocolate chips - Ruby didn't - and I kept running out of small plates.
And, every night I was staying up making them breakfast. Which would have been fine, except that at around 7 PM I start to wane to the point of comatose. I am an early morning person - not a night person.
So I came up with a recipe that would feed them for multiple days and allow members of the family to adjust the cookie to their specifications. Think of this mixture as a blank canvas on which to paint your favorite breakfast.
The great thing is that this breakfast is completely comprised of whole food. Of course peanut butter is mushed peanuts, and Maple Syrup is concentrated maple sap, but these are minimally processed compared to commercial cereal.
This breakfast is really healthy and contains whole grains and protein to start your day with a level of sugar that YOU control. In addition, it makes your morning easier because you have already made it. All you do is serve it on a plate!
Stop eating crappy cereal and start eating breakfast cookie. I will guarantee that you will make it through your morning with energy and not need a snack before lunch. And your kids will stop demanding Cocoa Puffs and you will never have to do laundry again :)
(and I forgot to mention that it is gluten free - and can be vegan if you make it with soy milk and maple syrup)
---
No Cook Oatmeal Breakfast Cookie Recipe

(serves 4)

2 cups rolled oats (not instant)
1 cup milk (flavor and type of your choice, soy, rice, etc.)
2 tablespoons peanut butter
maple syrup or honey to taste
raisins, dried cherries or apricots, chocolate chips, fresh fruit, etc. (optional)

Mix oats, milk, peanut butter, and syrup in a small bowl. Taste to ensure it is sweet enough for your palate. Cover bowl with lid or plastic wrap and let sit overnight. When ready to serve, mix in desired extras and mash on plate. Enjoy!
For one serving without mix-ins: 233 calories, 7.9 g fat, 32.1 g carbohydrates, 9.4 g protein, 4.6 g fiber, 64 mg sodium, 6 Points+
Have you changed from eating cereal in the morning? What do you eat now?
Want to read about snacks?
What The World Eats (Cheap and Healthy)
Is a GoGurt a Healthy Go or a Junk Food No?
A Little Ranch Dressing Isn't Gonna Kill Ya
A Chocolate Shake With Only 116 Cals