How to Replace Butter without Sacrificing Flavor
Is it possible? Can you remove butter from a great recipe and still want to eat it? Well, I was skeptical, until I decided to work this out for my waistline. You see, I love baked goods - especially Doughnuts.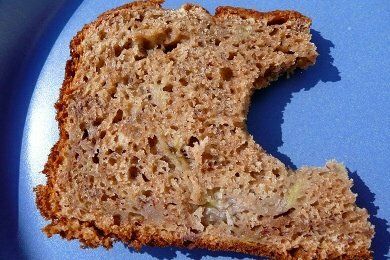 If I am going to take the time to bake, I am not going to give up flavor. It takes preparation, time, and then you have to clean up the mess when you bake and the results better be delicious.
I already make a form of banana bread for Snack-Girl - see here Homemade Banana Bread, but it is a whopping 335 calories per slice. Why? Because I use butter and sugar.
This banana bread is an improvement on any commercial banana bread because when you eat a baked good soon after it leaves the oven it tastes great and has less calories.
A slice of Starbucks Banana Nut Bread is 410 calories and includes ingredients such as high fructose corn syrup.
BUT, my Homemade Banana Bread isn't low calorie. So I saw a recipe on Vitamin G and decided to make it work for me.
I lowered the sugar and added whole wheat flour to make it more nutritious (you can use all white flour if you want). You can get down to 150 calories a slice if you use these ingredients - this is for 12 slices which is a reasonable size (like the one pictured here).
And I did it without Splenda and without using anything but real ingredients. The key is that the bananas are sweet so you don't have to add alot of sugar to make it taste really great, and you use buttermilk which is a great low calorie substitute for butter.
Anyway, I hope this recipe inspires you to give your oven a whirl.
---
Buttermilk Banana Bread Recipe

(Makes 1 loaf)

2 large eggs
1/2 cup sugar
3 mashed ripe bananas
1/3 cup buttermilk
1 tablespoon vegetable oil
1 tablespoon vanilla extract
1 1/4 cups all purpose flour
1/2 cup whole wheat flour
2 teaspoons baking powder
1/2 teaspoon baking soda
1/2 teaspoon salt

Preheat oven to 325 °F. Lightly grease a loaf pan. Using a whisk or a fork beat eggs and sugar in large bowl until thick and light. Mix in mashed bananas, buttermilk, oil and vanilla. Add flour, baking powder, baking soda and salt. Mix until just blended. Pour batter into prepared pan. Bake bread until golden brown on top and butter knife inserted into center comes out clean, about 1 hour. Turn bread out onto rack and cool.
---
Please share your ideas on how to get your bake goods to be tasty and low calorie in the comment section.
Want more like this?
Quick and Healthy Pizza
Homemade Banana Bread
Energy Bar Recipe