Super Easy Homemade Spaghetti O's
Snack Girl rarely eats her pasta from a can. Pasta is one of those foods that is ridiculously easy to cook.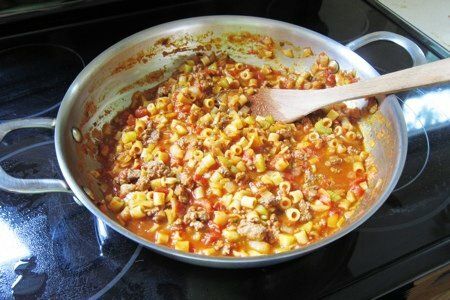 Can you boil water? Yes? Then, you can cook pasta.
I probably shouldn't call this recipe "Homemade Spaghetti O's" because that will turn some of you off. Because of the tomato, beef, and pasta combo it resembles Spaghetti O's, but mine has a few more ingredients. And, I might mention, tastes pretty good.
I have bulked it up with onion, celery, and carrot. Also, I didn't take the time to make meatballs because I am lazy. Think of this as a quick pasta dish that will keep the hungry hordes silent. My kids did like this very much and asked me to make it again.
This recipe uses one saute pan (one pan to clean!) and it can be done in about 30 minutes. The only catch is that you have to be careful when you buy a jar of tomato sauce. Do not purchase the ones with added cheese or sugar. I am planning to do a post on jarred tomato sauce because I have tricked SO MANY TIMES. argh.
Do you eat Spaghetti O's? Would you try to make your own?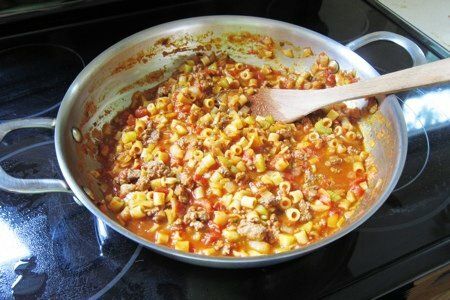 Homemade Spaghetti O's Recipe

Makes 6 servings, 1 ½ cup per serving

Ingredients
8 ounces ground beef (85% lean)
1 onion, chopped
1 carrot, peeled and chopped
1 celery stalk, chopped
1 garlic clove, minced
1 jar (24 ounces) tomato sauce
1 cup water
1 cup macaroni or ditalini (4 ounces)

Instructions
Heat a very large skillet (a deep 12-inch skillet) over medium high heat. Add the beef and cook until browned (no pink remains). Put browned beef into a strainer and allow the fat to drain off.
In the same skillet, saute the onion, carrot, celery, and garlic until the vegetables have softened, about 7 minutes. Add the ground beef, tomato sauce, and water to the skillet and bring up to a simmer. Add the macaroni, stir, and cover. Simmer until the macaroni is tender about 8-10 minutes.
Nutrition Facts
258 calories, 9.1 g fat, 28.9 g carbohydrates, 11.7 g sugar, 14.0 g protein, 4.1 g fiber, 504 mg sodium, 5 Points+
Points values are calculated by Snack Girl and are provided for information only. See all Snack Girl Recipes
Other posts you might like:
---

Want your pasta to be zero calories and still taste like pasta? Maybe I have found a solution....
---

Here I am again, playing the guinea pig. Why me?....
---
---
Get Free Email Updates! Yes please!
---