How to Cook Salmon from Frozen **VIDEO**
I happen to love salmon but I forget to take it out of the freezer for dinner. Does that happen to you? I am going to help you out because I have learned how to cook salmon from frozen.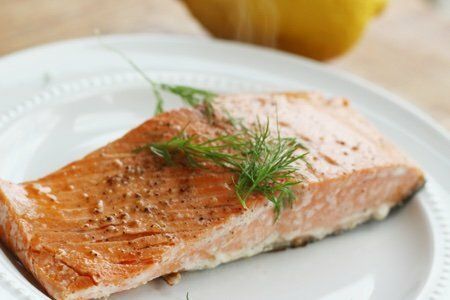 I had never attempted cooking from frozen because I thought that the fish would cook unevenly unless it was thawed. My baked salmon and asparagus recipe and my roasted salmon and broccoli both feature thawed fillets.
I thought that the fish wouldn't cook evenly without it being thawed (the inside would be cold and the outside hot) - but, happily, I was wrong.
Since making this recipe, I have also learned how to cook salmon from frozen without thawing in the oven - incredibly easy!!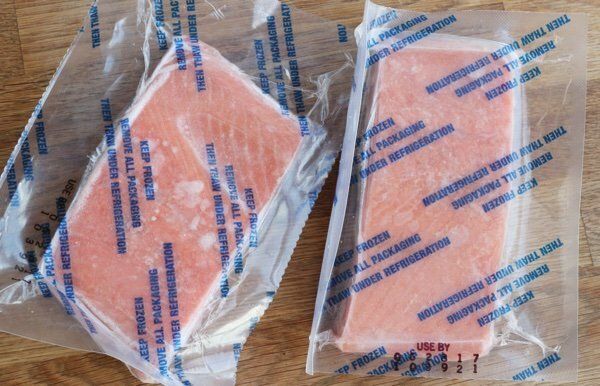 I love how you can buy a bag of individually frozen fillets and store them in the freezer for a fast weeknight meal. Now you don't have to remember to take them out of the freezer before you leave for work in the morning!!
First, you rinse off the ice glaze in cold water and pat down with paper towels. Then, using a brush, you slather on some olive oil so the salmon won't stick to the pan. Heat your pan to medium high while you are rinsing and brushing.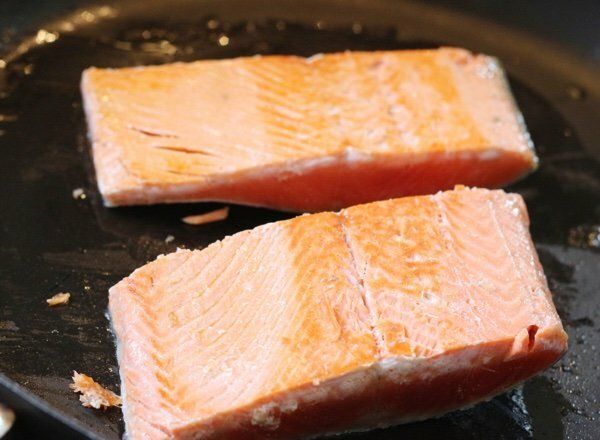 Cook your salmon for 4 minutes or so until browned. It will still be really frozen except for the layer that you brown. Turn it over (this is the browned portion above), cover the pan, and reduce the heat to medium.
Cook for 6 more minutes until the fish is opaque (check with a knife in the center – take a peek).
It's kind of amazing. In 10 minutes, you have delicious, cooked fish right from your freezer. How can you go wrong?
I serve this with salad, rice or cauliflower rice, maybe some noodles - whatever I have on hand. My family usually loves this meal.
WATCH THE VIDEO ☺
Please share if you try this recipe and let me know how it goes.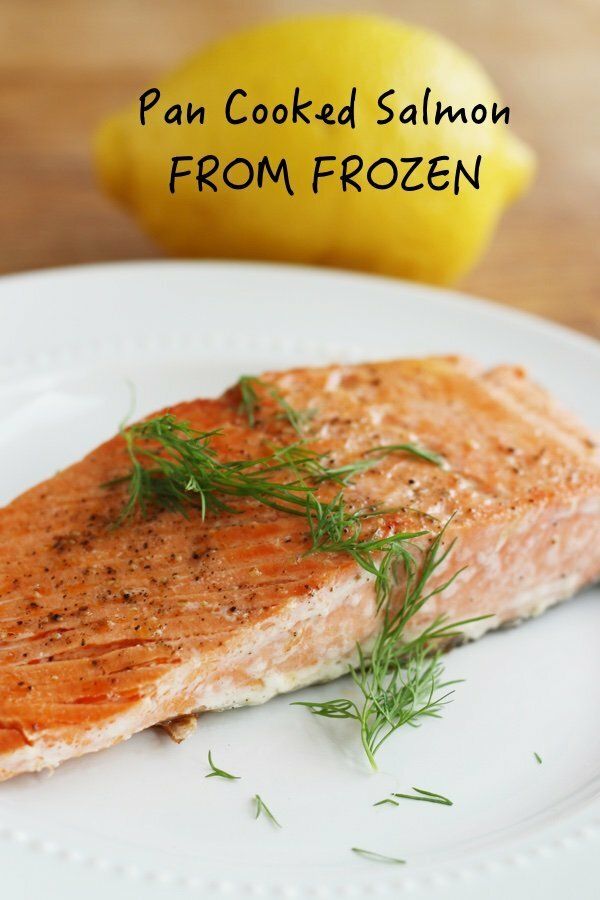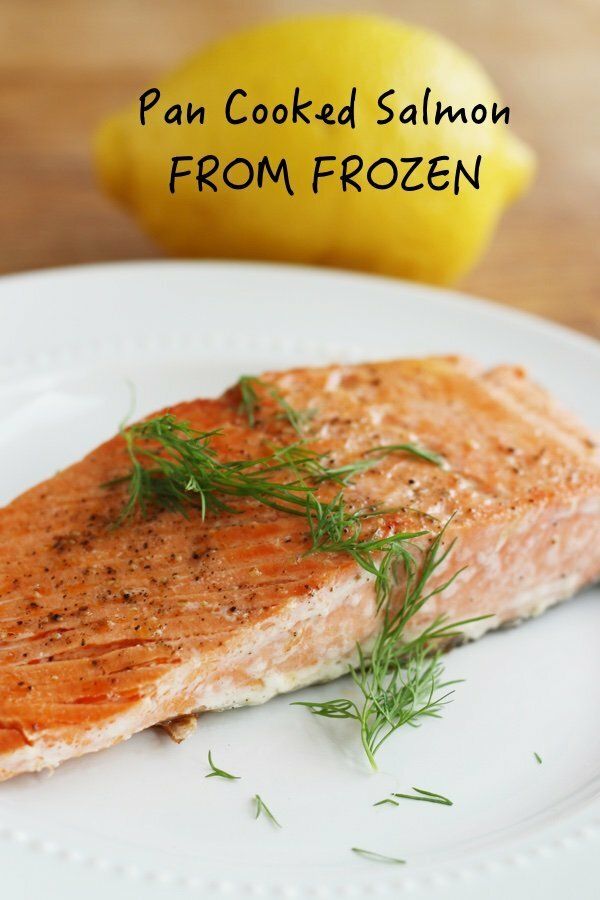 How to Cook Salmon From Frozen Recipe

Makes 2 fillets

Ingredients
2 Alaska Salmon fillets (4 to 6 ounces each)
olive oil for brushing on
salt and pepper to taste

Instructions
Rinse any ice glaze from frozen salmon under cold water and pat dry with a paper towel. Heat a heavy non-stick skillet over medium-high heat. Brush both sides of fish with olive oil and place salmon in heated skillet, uncovered, for about 4 minutes until browned.
Turn salmon over and season with salt and pepper. Cover pan tightly and reduce heat to medium. Cook an additional 6 to 8 minutes or just until fish is opaque.
Nutrition Facts
For a four ounce fillet with olive oil = 190 calories, 11.7 g fat, 1.7 g saturated fat, 0.0 g carbohydrates, 0 g sugar, 22.0 g protein, 0 g fiber, 50 mg sodium, 1 Freestyle SmartPts
Points values are calculated by Snack Girl and are provided for information only. See all Snack Girl Recipes
---
Other posts you might like:
---

Do you like to get presents? How about opening baked salmon and asparagus?....
---

How do you cook salmon from frozen without thawing in the oven? Almost exactly the same way you would cooked thawed salmon....
---
---
Get Free Email Updates! Yes please!
---