Is American Cheese Bad For You?
Today, we are going to delve into a serious topic – American cheese.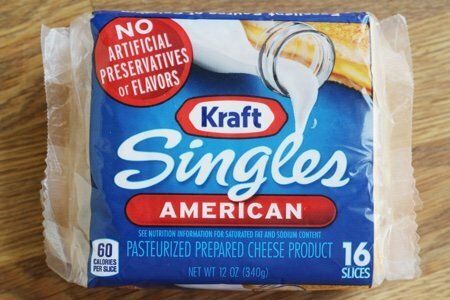 Maybe many of you have already decided that American cheese is bad for you or unhealthy but I bet many are confused about what American cheese is.
First, American cheese isn't cheese. Isn't that confusing? It says what it is right under the word "American" in a hard to read color – "pasteurized prepared cheese product".
James Lewis Kraft, the Kraft company's founder, figured out a way to keep cheddar cheese from going bad by breaking it down, sterilizing it to kill the bacteria that causes cheese to mold, and, finally, reconstituting it into a square that could be cut into slices.
Therefore, American cheese is a "cheese product" not actual cheese.
Let's look at a few of the big differences between American cheese product and cheddar:
American has 14 ingredients – cheddar has 4

American is sold in wrapped individual slices – cheddar is in blocks (and sometimes slices)

American will stay "fresh" for a year – cheddar's shelf life is limited

Lunchables include a form of American cheese in the Worst Snacks to Eat so that it can be tossed into a backpack.
Here are the ingredients in Kraft American cheese product:
CHEDDAR CHEESE (MILK, CHEESE CULTURE, SALT, ENZYMES), WHEY, MILK, MILK PROTEIN CONCENTRATE, MILKFAT, WHEY PROTEIN CONCENTRATE, SODIUM CITRATE, CONTAINS LESS THAN 2% OF CALCIUM PHOSPHATE, SALT, LACTIC ACID, ANNATTO AND PAPRIKA EXTRACT (COLOR), NATAMYCIN (A NATURAL MOLD INHIBITOR), ENZYMES, CHEESE CULTURE, VITAMIN D3
Here are the ingredients in cheddar cheese:

Pasteurized milk, cheese cultures, salt, enzymes
The nutrition information is a bit tough to compare because a slice of American is less than an ounce of cheddar – but I did the math so that we could get a fair comparision.
Nutrition facts for one ounce of American cheese product:
90 calories, 6 g fat, 3.75 g saturated fat, 1.5 g carbohydrates, 1.5 g sugar, 4.5 g protein, 0 g fiber, 300 mg sodium, 3 Smart Pts
Nutrition facts for one ounce of cheddar:
110 calories, 9 g fat, 2.5 g saturated fat, 0 g carbohydrates, 0 g sugar, 7 g protein, 0 g fiber, 180 mg sodium, 3 Smart Pts
When I look at this, I think cheddar wins as the better choice. It has less saturated fat and almost half the sodium and TWICE the protein.
I don't think American cheese product is bad for you but I do think that cheddar is a far better choice.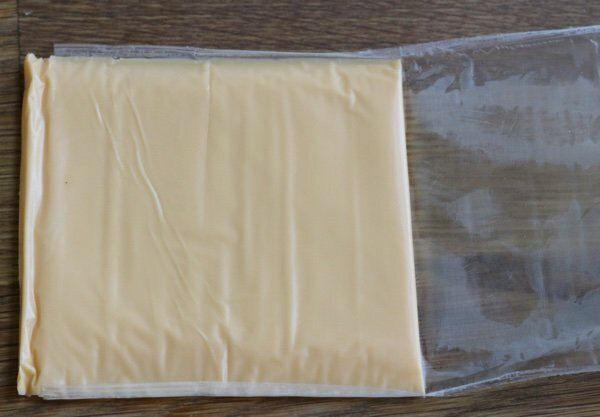 Just take a look at it. Does it look appetizing? It tastes very strange, is incredibly bland, and is rubbery. It tastes a bit like the plastic that it is wrapped in.
I can't imagine someone from Quebec (a region of Canada famous for making over 300 cheeses) even recognizing this stuff as even related to cheese.
My favorite way to eat cheddar (REAL CHEESE) is to grill it on a slice of tomato and whole wheat toast – yum!
Do you eat American cheese product? Or do you prefer the real thing?
---
Other posts you might like:
---

It is very easy to find the worst snacks to eat in the grocery store....
---

Sometimes the simplest snacks are the best. I suppose the above snack isn't going to win me any awards, but I still wanted to feature it....
---