CLIF BAR Vs. SNICKERS: Are They BOTH Candy Bars?
Snack Girl recently visited one of her bestest buddies and she had a big cookie jar filled with CLIF BARs. I found myself munching on them and wondering if they were any good for me.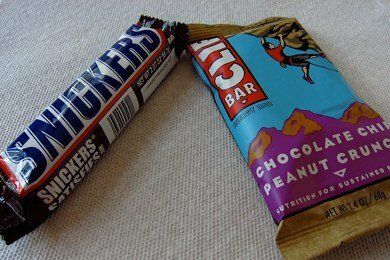 Why was I concerned? Well, the bar was called "Chocolate Chip Peanut Crunch" and it tasted super sweet. It reminded me of another one of my favorite packaged snacks when I was a teenager.
Yes, dear readers, Snack Girl used to crave SNICKERS bars. I have no idea how many I ate over the years, but I LOVED them. I gave them up when I went to college - I can't remember why.
I just want to be clear that SNICKERS is a CANDY bar and CLIF BAR is defined as an ENERGY bar. CLIF BARs are targeted at athletes and active people, while SNICKERS is targeted to all of us looking for that late afternoon pick me up (and children in the line at the supermarket - argh).
I decided to toss in another comparison at the last minute. I added the nutritional information for SIX Newtons Fruit Thins (which I covered last week).
| Nutritional Facts (grams) | CLIF BAR | SNICKERS | FRUIT THINS |
| --- | --- | --- | --- |
| Calories | 240 | 280 | 280 |
| Fat | 7 | 14 | 10 |
| Total Carbohydrates | 41 | 35 | 42 |
| Sugars | 21 | 30 | 14 |
| Protein | 10 | 4 | 4 |
| Fiber | 5 | 1 | 4 |
| Sodium (milligrams) | 200 | 140 | 200 |
| Size (Grams) | 68 | 58.7 | 60 |
So, the SNICKERS bar is smaller and has less fiber, sodium, protein, and total carbohydrates. The CLIF BAR has fewer calories, less fat and sugars, and is larger.
It looks like CLIF BAR is a better choice based on these measures.
Take a look at the ingredients:
Chocolate Chip Peanut Crunch CLIF BAR ingredients:
Organic Brown Rice Syrup, ClifPro® (Soy Rice Crisps [Soy Protein Isolate, Rice Flour, Barley Malt Extract], Organic Soy Flour, Organic Roasted Soybeans), Organic Rolled Oats, Organic Toasted Oats (Organic Oats, Organic Evaporated Cane Juice), Organic Evaporated Cane Juice, Organic Peanut Butter (Organic Peanuts, Salt), Chocolate Chips (Evaporated Cane Juice, Unsweetened Chocolate, Cocoa Butter, Soy Lecithin, Natural Flavors), Peanut Flour, Peanuts, ClifCrunch® (Organic Oat Fiber, Apple Fiber, Inulin [Chicory Extract], Psyllium, Organic Milled Flaxseed), Organic Date Paste, Natural Flavors, Sea Salt.
SNICKERS bar ingredients:
Milk chocolate (sugar, cocoa butter, chocolate, lactose, skim milk, milkfat, soy lecithin, artifiical flavor), peanuts, corn syrup, sugar, skim milk, butter, milkfat, partially hydrogenated soybean oil, lactose, salt, egg whites, artificial flavor.
What I think is SO interesting here is the number of times that sugar is listed on these lists - though, in both cases SUGAR is the FIRST ingredient.
SNICKERS: sugar, lactose, corn syrup, sugar, lactose = FIVE TIMES
CLIF BAR: organic rice syrup, barley malt extract, organic evaporated cane juice, organic evaporated cane juice, evaporated cane juice, organic date paste = SIX TIMES
In case you are wondering, evaporated cane juice is SUGAR with trace minerals because it is less processed than regular sugar.
(I thought it was just marketing mumbo jumbo - then I looked it up).
You expect SNICKERS to have a bunch of sugar, and I suppose you should expect it in an energy bar, too.
You know what? The CLIF BAR isn't that different from eating 6 Newtons Fruit Thins.
My suggestion is to consider CLIF BAR and other energy bars in this category like a AMPED oatmeal raisin cookie. Keep in mind that the serving size is too big for it to be considered a healthy snack.
A good snack portion is between 100-150 calories (and CLIF BAR does make smaller versions).
CLIF BARs are healthier than a candy bar - but not that different from a cookie with whole grain ingredients.
What do you think of CLIF BARs?
---
Want to read about snacks?
You Don't Need The Bread For This Healthy Snack
A Fruit You Just Gotta Try
Will "Newtons Fruit Thins" Keep You Thin?
Evidence That Junk Food Snacking Will Shorten Your Life