A Fruit You Just Gotta Try
Something green and yummy is sitting right now in your supermarket and it will make your taste buds sing. This fruit resembles a tomato and is a staple of Mexican cuisine.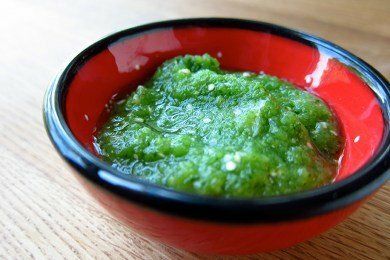 I am talking about the tomatillo! I am actually a HUGE fan of tomatillos but until yesterday, I had never cooked with them. Why? Well, I guess I was just happy allowing my favorite burrito shop making "green salsa" AKA "salsa verda cruda" for me.
Also, I wasn't sure if I could find it. Guess what? Even in a place I am now calling "the edge of somewhere" - Western Massachusetts - I found tomatillos in the Stop & Shop. Yes, they are not only found in speciality stores .
There they were in a regular grocery store for $1.99 per pound!
See here: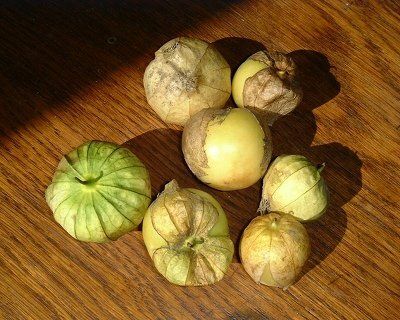 Tomatillos are widely available year-round, but the main season is May through October. When purchasing them, look for firm fruit with tight, unwrinkled husks.
With husks on, tomatillos keep for about two weeks stored in a paper bag and refrigerated, but husk them and store refrigerated in a plastic bag and they keep up to four weeks.
I was introduced to making my own "Green Salsa" by Chef Roberto Santibaňez's new book, "Truly Mexican". I met Roberto at a conference and I was just blown away by his book.
The photos, writing, and organization of this book are exceptional - and the food is low-fat, mostly gluten-free and dairy-free, and SO flavorful. Of course, Roberto doesn't emphasize the low-fat nature of his salsas and other sauces - but, I couldn't help noticing.
He could have entitled it "Healthy and Truly Mexican". Seriously! You just have to keep your portion size of meat in check and this is a healthy eating bible.
The salsa below is simple and crazy good. The entire recipe has 95 calories!
Serve it on beans, rice, meat, hot dogs, sandwiches, ice cream, whatever.
I served this at a small Fourth of July soiree and received proposals of marriage!
Just beware, when it is first served out of the blender it is a bit spicy. I let mine sit about an hour before serving and the flavors melded to perfection. Also, even though Roberto says to eat it within a few hours, it did keep overnight in my fridge and I ate it for dinner the next day. It was still really good.
Have you tried to cook with tomatillos?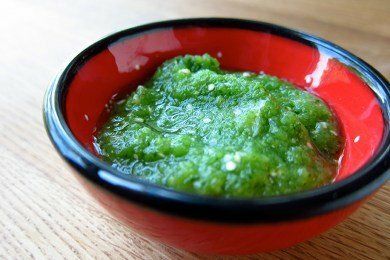 Fresh Tomatillo Salsa Recipe / Salsa Verda Cruda
reprinted with permission from "Truly Mexican" by Roberto Santibaňez

(makes 1 1/2 cups)
Ingredients
1/2 pound tomatillos (5 or 6), husked, rinsed, and coarsely chopped
1/2 cup chopped cilantro
2 fresh serrano or jalapeňo chiles, coarsely chopped, including seeds, or more to taste
2 tablespoons chopped white onion
1 large garlic clove, peeled
3/4 teaspoon fine salt, or 1 1/2 teaspoons kosher salt

Instructions
Put the tomatillos in the blender jar first, then add the remaining ingredients. Blend until the salsa is very smooth (the tomatillo seeds will still be visible), at least a minute. Season to taste with additional chile and salt, and blend again.
This salsa tastes best no more than a few hours after you make it.
BLENDING STUBBORN TOMATILLOS
It takes a minute or so for the blades of the blender jar to catch raw chopped tomatillos. Once they do, all the ingredients will be pulled toward them. Be patient, and do not add any water. If the tomatillos don't liquidize after a minute or so, stop the blender, prod them with a wooden spoon, and try to blend again.
Nutrition Facts
1 1/2 cups is 95 calories, 2.6 g fat, 18 g carbohydrates, 3.1 g protein, 5.7 g fiber, 124 mg sodium, 0 Points+
Points values are calculated by Snack Girl and are provided for information only. See all Snack Girl Recipes
$38.00 $35.30 Buy on Amazon.com
As an Amazon Associate I earn from qualifying purchases.
---
Want to read about snacks?
You Don't Need The Bread For This Healthy Snack
Which Bread Is The Healthiest?
Will "Newtons Fruit Thins" Keep You Thin?
Evidence That Junk Food Snacking Will Shorten Your Life
---
Get Free Email Updates! Yes please!
---