Kale Chips: Believe The Hype
Kale is getting a lot of press and finding its way on all the top blogs. I had to ask this kale to stop on the red carpet to photograph it.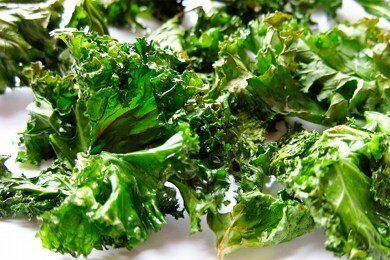 Why is it growing in popularity? Probably because it is THE answer to the healthy eating question: How do I get lots of nutrients for few calories?
KALE!!!
I mean this stuff is crazy good for you (for example, over 300% of your daily value of vitamin A in one serving). I have featured it myself many times and started eating it precisely because so many recipes are showing up. Here are three of my kale recipes:
1.

This Green Smoothie Does NOT Taste Like Grass
2.

Give The Healthiest Vegetable on The Planet Some Love
3.

The Unthinkable: A Christmas Salad
I used to HATE kale. Seriously, I am not kidding you. I hated the stuff and now I am eating it and I LOVE it.
How did we fall in love? Well, I made kale chips. And, now, I am going to convince you to make kale chips. These are the best replacement for potato chips that you can find. They are satisfying, a little salty, crunchy - yum! They go well with not-so-nutritious beer.
How do you make them? First, you spend all of $2 on a bunch of fresh kale. Then you RIPPPPP the leaves off the stems and toss them into a bowl with some olive oil and salt.
Then, you spread them out on a baking sheet see here: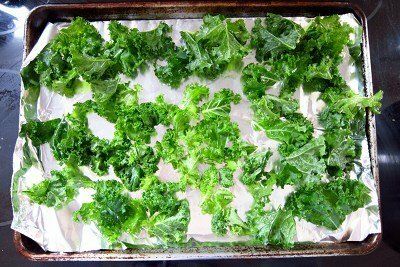 And bake for FIVE minutes. Viola! Kale chips! Yes, you can do this and when you taste them - you will be eating one of the healthiest vegetables you can eat. Toss out your multi-vitamin and wrap your gums around these chips.
I have tried to make these chips without the olive oil and it was not good. Something about the fat in the olive oil brings out the sweeter flavor in the kale. I think that when you are eating something as healthy as kale - you don't need to worry too much about adding a little fat.
Do you make kale chips? Share your love (or hate) of kale below.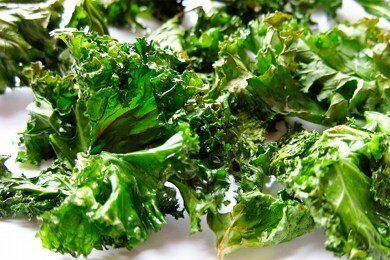 Kale Chips Recipe
(2 servings)
Ingredients
1 bunch fresh kale (or 1/2 pound)
2 teaspoons olive oil
salt to taste
Instructions
Heat oven to 500 F. Line rimmed cookie sheets with parchment paper or aluminum foil. Tear the leaves off the thick stems into chip sized pieces. An easy way to do this is to fold the leaf in half and just rip toward the stem. Put in bowl and drizzle with olive oil and sprinkle salt to taste.
Bake 5 minutes or until edges are brown and kale is crispy when moved in pan.
The idea here is to make clean up easy (just toss the paper and then you have less work to do).
Nutrition Facts
For one serving = 90 calories, 5.2 g fat, 10.1 g carbohydrates, 3.3 g protein, 2.0 g fiber, 121 mg sodium, 1 Points+
Points values are calculated by Snack Girl and are provided for information only. See all Snack Girl Recipes
Other posts you might like:
---

What if you could make FAT-FREE crispy chips in your microwave? Wouldn't that solve all of your problems?...
---

Chips, why do we love you so? Is it the crunchiness? The saltiness? or the just plain deliciousness....
---
---
Get Free Email Updates! Yes please!
---