More Soup Because Winter Is Hanging On
March is one of those months that I wish would hurry up. This year has been awful!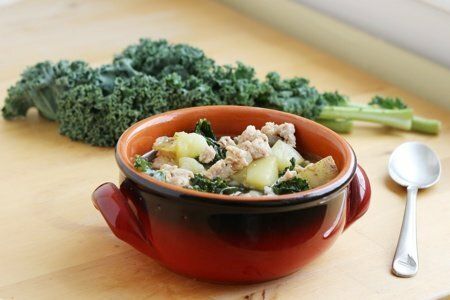 I live in Massachusetts and the snow seems like it will never leave. I am tired of putting on my snow boots, gloves, and hat. I am also tired of shivering.
What to do? Make more soup. The great thing about soup is that there are so many types to try. I love vegetable soups, cream soups, bean soups and when a reader shared this recipe – I had to try it.
This soup features kale. I have been working with kale for years now and I used to hate it. In fact, a section of my book is devoted to kale (I'm sure this fact will ensure that people buy multiple copies).
I must say that I have not enjoyed kale in a soup before I tried this one. I think it is because of the sausage – it balances the leafiness with meatiness. I used chicken sausage because it is lower in calories than pork sausage. You can find it next to the pork sausage in the butcher section of your supermarket.
It is filling (3 cups per serving) and the vitamins are off the charts (13% your daily value of iron, 102% of your daily value of vitamin A).
Don't eat it because it is good for you – eat it because it tastes good. I love this soup.
What is your favorite soup?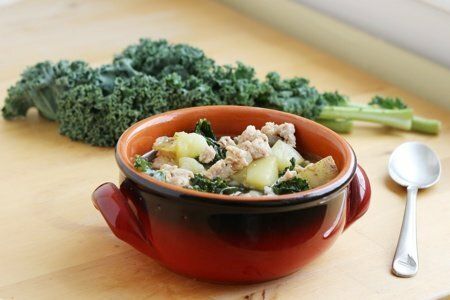 Chicken Sausage, Kale, & Potato Soup Recipe
Makes 4 servings, 3 cups per serving
Ingredients
1 pound chicken sausage (uncooked version), casing removed
2 teaspoons olive oil
1 small onion, chopped
3 cloves garlic, minced
6 cups chicken broth (low sodium)
1 pound potatoes (about 3 medium sized), cubed
1 large bunch kale, thick stem removed, chopped
Instructions
Heat a large saucepan on medium high and add chicken sausage. Cooked until no longer pink and remove from pan with a slotted spoon.
Add olive oil, garlic, and onion and sauté until softened (about 3 minutes). If you find that the onion is sticking, use ¼ cup of water to loosen it.
After onion and garlic are cooked, add broth and potatoes. Bring to a boil and then lower to a simmer for 10 minutes. Add kale and cooked chicken sausage and simmer until potato and kale are tender. Serve hot.
Nutrition Facts
3 cups is 203 calories, 5.6 g fat, 1.2 g saturated fat, 26.1 g carbohydrates, 3.2 g sugar, 13.0 g protein, 5.0 g fiber, 328 mg sodium, 5 Points+
Points values are calculated by Snack Girl and are provided for information only. See all Snack Girl Recipes
Other posts you might like:
---

Snack Girl knows it isn't good to demonize a food....
---

Do you have any relatives who say that they cook and then they just open cans? Yep, this recipe was inspired by a "Can Chef"....
---
---
Get Free Email Updates! Yes please!
---