The Latest In Snack Food Hype: Beware
Covering the snack food industry is such fun! Snack Girl so enjoys reading the latest stories on what wonderful, healthy snacks that arrive on the market.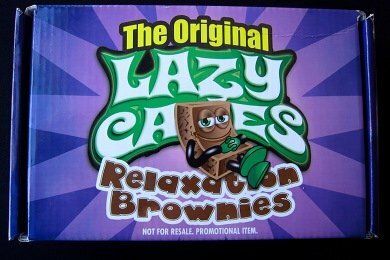 When I saw Lazy Cakes on NPR, I just KNEW I had to write about them.
Who came up with this amazingly fresh idea? Yes, they took herbs and mixed them into a brownie. And you can buy them at your local convenience store for $4 each. Brilliant!
And (surprisingly) legal, because they used herbs called Valerian Root, Rose Hips, and Melatonin - which are herbal sleep aids.
Which prompted me to ask the question, why? Why is it legal to put melatonin in a brownie?
From the NPR article:
There's been at least one report of a toddler in Tennessee eating a Lazy Cake and ending up in the hospital. National poison center data show melatonin prompts more calls than any other herb or supplement.
What do you think is going to happen if a toddler eats a couple of these? How many children going to the hospital does it take before we can get crap like this off the market?
And, why, do you need an herbal brownie for relaxation? Have you tried a brownie without any supplements imbedded?
I have met maybe three people in my entire life who didn't self-medicate with food. How many of you grab a cookie when you are stressed? Believe ME, you don't need the herbs.
Why do we look to food for more than just sustenance? It seems our convenience store is just packed with uppers and downers with flashy packaging.
It reminds me of Alice in Wonderland - drink one and you get bigger - drink another and you get smaller. I think we would be A LOT better off just using FOOD to fuel our minds and bodies for the things we want to do.
Now, I bet you are wondering if I tried the Lazy Cake. And, yes, for the purpose of review, I did try it (the things I do for this website, sheesh!).
I ate the recommended dosage (1/2 Lazy Cake) at 8 PM and immediately felt dizzy and a tightness in my chest. I'm ALREADY lazy so I didn't think it could make me any lazier.
It did make me feel disoriented, and not in a good way. Don't do this experiment on yourself.
My advice, stick to real brownies for relaxation.
Please share your thoughts on Lazy Cakes.
Want to read about snacks?
This Is Not Your Mother's Rice Krispie Treat
A Jello Makeover: Cool Cups
Weight Watchers Friendly Recipes on Snack Girl
A Color You Should Be Eating More Of