No Need For A Deep Fryer With These Corn Fritters
Deep frying food is cheating in my book. You can make a pencil taste delicious if you deep fry it.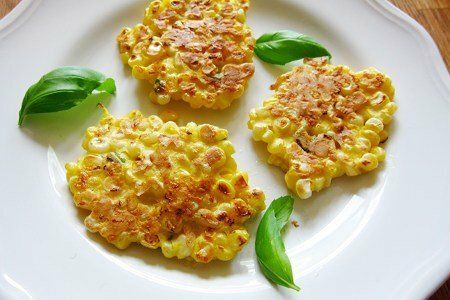 I realize it is more of a challenge to use less oil to make fried food, but you can do it! I have this non-stick skillet that just rocks with a teaspoon of olive oil. I can get a crispy outside and I don't need an angioplasty after cooking in it.
These corn fritters are pan fried and are not the classic version. If you search for corn fritters, the top result is a Paula Deen recipe that features ½ stick of butter and a deep fryer (OMG).
If your corn is fresh, the taste will just carry the dish and you won't miss the butter or the oil. I love the recipe below. It is simple, fast, and celebrates sweet corn.
I cut my corn off the cob on a plate to catch all the kernels. I stand the ear up and run my knife down the ear. Another tip here is to be sure and wait 2-3 minutes before flipping or these might fall apart. They still taste great - but now you have corn and egg hash.
For seasoning, I used fresh basil because I have a basil plant on my windowsill. Chives, cumin, onion, dill, etc. would work. If you have some spices laying around, use them. Otherwise, don't worry about it.
I would serve these as an appetizer, after school snack, breakfast, whatever!
How do you cook sweet corn?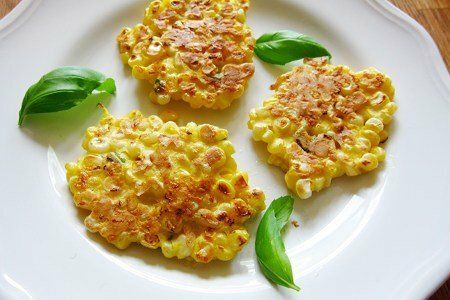 Summer Corn Fritter Recipe

(makes 10)

Ingredients
3 ears fresh corn or 2 cups frozen corn
1 egg
1 tablespoon white whole wheat flour
optional: scallion, basil, or small onion, chopped
salt and pepper to taste
1 teaspoon olive oil

Instructions
Husk corn and cut kernels off of the ears. Mix corn, egg, flour, optional ingredients, and salt and pepper in small bowl. Heat fry pan to medium high and add olive oil.
Using a large spoon, place batter on hot pan making a patty about 1 inch in diameter. Cook for 3 minutes and turn. Cook for another 2 minutes and serve.
These taste great hot or room temperature.
Nutrition Facts
For one fritter = 39 calories, 1.3 g fat, 6.4 g carbohydrates, 1.0 g sugar, 1.6 g protein, 0.9 g fiber, 11 mg sodium, 1 Points+
Points values are calculated by Snack Girl and are provided for information only. See all Snack Girl Recipes
Other posts you might like:
---

Don't tell me you haven't noticed the piles of corn at the front of your local grocery store. The stacks of 10 ears for $2 are calling Snack Girl....
---

Got time to bake? No? Don't worry, Snack Girl has a great tip for making it look like you have time to use that oven for something other than pots and pan storage....
---
---
Get Free Email Updates! Yes please!
---