Love Pizza? Try This 100 Calorie Version
You know what? It isn't that hard to make healthy pizza. Pizza would always be pretty healthy if we chose not to put 1/2 pound of cheese on every slice.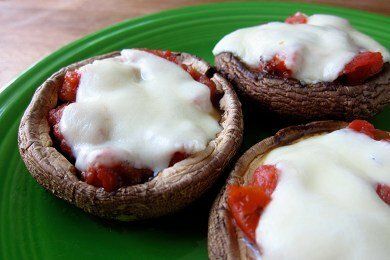 Here on Snack Girl, I have featured English muffin pizzas, Triscuit pizzas, and even made over a frozen pizza to get readers to try a healthier version of pizza.
Well, do I have a solution for you. Make the pizza in a portobello mushroom cap!
Why would you do this?
only 22 calories of crust
tastes meaty and goes great with sauce and cheese
you don't have to make crust!
Yes, this is SO easy it is ridiculous and the taste is phenomenal. Now, the down side is that in my neighborhood a portobello mushroom is running about $1 each. But keep in mind the health benefits.
You are eating a 22 calorie mushroom instead of a load of crust (and it is gluten free)!
In the recipe below, I used diced fire roasted tomatoes to fill the caps. I like them because they already have some seasoning and they have texture - as compared with pizza sauce.
Also, I used fresh mozzarella because I love the creaminess. Feel free to use any cheese or tomato combo that you have in the house.
Kids will love making these and you can make them ahead to reheat later.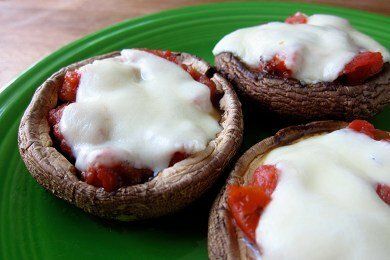 Portobello Mushroom Pizza Recipe
(serves 4)
4 portobello mushroom caps
1 15 ounce can diced fire roasted tomatoes
4 ounces fresh mozzarella cheese (thinly sliced or grated)

Preheat oven to 350. Spray rimmed baking sheet with non-stick spray. Clean mushroom caps with paper towel and remove stems. Spoon 1/4 cup tomatoes with or without juice into cap. Layer mozzarella cheese over tomatoes. Bake in oven for 20 minutes. Serve with a knife and fork.
Serve hot or room temperature.
115 calories, 5.9 g fat, 6.9 g carbohydrates, 9.8 g protein, 1.7 g fiber, 200 mg sodium, 2 Points+
Points values are calculated by Snack Girl and are provided for information only. See all Snack Girl Recipes
Other posts you might like:
---

Back to the black and white photo for a discussion about pizza. Why did I choose black and white?....
---

Snack Girl doesn't believe in guilt about food. For me, there is no "good" food vs. "evil" food....
---
---
Get Free Email Updates! Yes please!
---