Now You Can Eat A Banana Split Without Splitting Your Pants
Snack Girl is ALWAYS looking for ways to makeover treats into healthy food. And, she loves banana splits!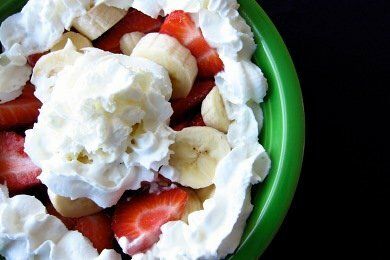 In fact, one of my favorite banana splits is served at Friendly's for a whopping 880 calories. ouch.
What to do?
Well, one of my new Weight Watcher's buddies shared with me her secret for replacing ice cream. She just puts some whipped cream on a banana.
I wasn't sure it would work but I gave it a try with the bowl and banana pictured above which features fresh strawberries that are just arriving in the stores. All I did was add about 8 tablespoons of light whipped cream to this bowl.
Eight tablespoons of sweetened whipped cream (from one of those crazy nitrous oxide filled canisters) is only 60 calories.
The entire dish featured 1 cup sliced strawberries, 1 banana, and whipped cream. It came out to 206 calories (I saved myself 674 calories) and, honestly, I really enjoyed it.
I didn't miss the ice cream. The whipped cream was enough of a "treat" for me.
Of course, these canisters aren't the most eco-friendly packaging in the world. So, if you have a bit more time you can buy some light cream, add a little honey or maple syrup and just whip it up really fast.
Cream is considered a really high calorie food, when you add AIR the calories decrease by quite a bit. Below, I have featured my favorite whisk - a "steel ball" whisk for those with large......hands.
I have to confess that I was given one of these at a foodie gig, and I fell in love with it because it is easier to use than a regular whisk. BUT, it is $23 - seems like a lot for a whisk.
If you like whipping things (such as egg whites or cream) this is your tool.
Kids will love making this faux banana split and it is a great way to dress up their after school snack.
This snack is ridiculously easy (and only 1 Weight Watchers point). Give it a try!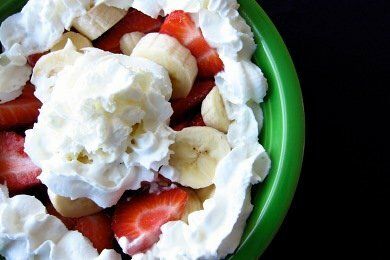 Banana Split Makeover Recipe
(serves 1)
Ingredients
1 cup strawberries (fresh or frozen)
1 banana
8 tablespoons sweetened whipped cream
Instructions
Slice strawberries and banana. Put in a bowl and top with whipped cream. Enjoy!
Nutrition Facts
206 calories, 4.8 g fat, 38 g carbohydrates, 2.2 g protein, 5.9 g fiber, 3 mg sodium, 1 Points+
Points values are calculated by Snack Girl and are provided for information only. See all Snack Girl Recipes
currently unavailable Buy on Amazon.com
As an Amazon Associate I earn from qualifying purchases.
---
Want to read about snacks?
Three Reasons To Avoid Yoplait Greek Yogurt
Replace French Fries with This Easy and Healthy Snack
Try This: Vegan Toast
This Green Smoothie Does NOT Taste Like Grass
---
Get Free Email Updates! Yes please!
---