Replace French Fries with This Easy and Healthy Snack
The most eaten vegetable in the United States is the potato. Found in fast food venues from coast to coast the delicious French Fries are hard to avoid.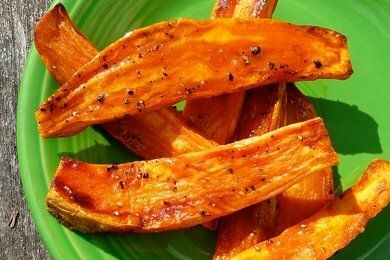 BUT, it is possible to bake something that will satisfy the craving. Baked sweet potato fries have the crunchy outside, and the soft inside and they pack a nutritional wallop with 219% of your daily allowance of Vitamin A in one serving. And that is just ONE of the benefits of eating them.
How do you make sweet potatoes taste amazing? Add a little sugar and there is a caramelization that takes place. Do you notice the word "caramel" here?
Anyone else like the taste of brown sugar and salt?
I decided to make these after watching my friend Josie's spectacular failure:

I'm So Tired of This Crap (the recipe)
Notice how my photo is better than hers :) The key is to hang around and flip the fries after 15 minutes, and not to crowd the pan. These are really EASY to make.
If you don't have a decent vegetable peeler, you should get one. I have the one below from Amazon and it is now due for a replacement after 7 years of weekly and daily use.
Having a working peeler makes you want to peel vegetables. Having a crappy peeler makes you want to order from Burger King.
After you make these, just pop them in your fridge. Eat them as a snack or add them to your salad. Mush them in your yogurt or eat them for breakfast After they are refrigerated, they aren't as crunchy but they still taste really good.
Sweet potatoes are available all year, though their season is Fall and Winter. Choose potatoes that are hard to the touch, because the soft ones are rotten.
---
Sweet Potato Fries Recipe

(serves 4)
aluminum foil for pan
2 medium sweet potatoes, peeled
2 tablespoons olive oil
1 tablespoon brown sugar
salt and pepper to taste

Preheat oven to 450 F. Half the sweet potatoes lengthwise. Place on flat slide and slice 5-6 spears (thick and long strips) of sweet potato. Place them on the aluminum foil and toss with olive oil and sugar. Spread them in one layer. It is important that they have space around them and aren't piled up on each other. Bake for 15 minutes and turn with tongs or a spatula. Bake for another 5 to 10 minutes, until lightly browned. Add salt and pepper. Serve hot, room temperature, or cold.
---
$12.91 Buy on Amazon.com
As an Amazon Associate, I earn from qualifying purchases.
---
Do you make sweet potato fries? Please share below.
Want to read about more snacks?
A 130 Calorie Donut
Streamline Your Morning in One Step
Beyond Hard Boiled Eggs