Love Chinese Take Out? Try This Trick
It is with a heavy heart that I criticize Chinese food here in the United States. Frankly, I used to live on this stuff until a doctor woke me up.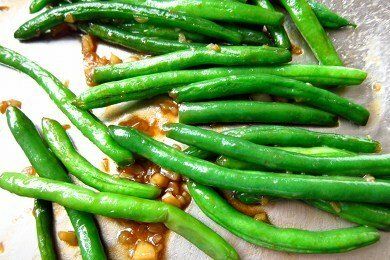 That doctor, Dr. Chan, is Chinese! He noticed a jump in my weight and asked me about my diet. Proudly, I shared that I ate lots of vegetables because I loved Chinese food.
"Don't you realize how much oil is in those vegetables? They deep fry them to make them bright and crunchy!", said a frustrated Dr. Chan.
He then explained that he doesn't eat take-out Chinese food, and referred me to his favorite store, Trader Joe's, for healthier alternatives.
A vegetable dish in a U.S. Chinese restaurant can include 900 calories and 2,200 mg of sodium. Which is really sad because vegetables are good for you, but not when you pour oil and salt on them.
Here is a great guide to the calorie amounts of your favorite dishes - Chinese Restaurant Food.
What is a Chinese food lover to do?
Well, I think it is possible to make great tasting vegetables with Asian flavors without the oil! I have done some experimenting and you don't need the oil to have them taste as good (or better) than your favorite Chinese restaurant.
The key is to have the sauces that they use on hand to flavor your dish. I have found ALL of the sauces that I need at my local grocery store in the Asian section (I didn't even have to go to an Asian market!).
So, what did I buy? I chose two sauces, Oyster Sauce and Fish Sauce. Oyster sauce has an oyster extract with salt and sugar. Fish sauce is very similar to Worcestershire sauce, which has an extract of anchovies.
The fish sauce smells like dirty socks and it is a very strong flavoring agent, but you will be amazed at how good it tastes when added to the vegetables.
The sodium here is still pretty high because oyster sauce is 930 mg of sodium for one tablespoon. This completely shocked me, as I hadn't looked at the nutrition facts until I decided to share this recipe on Snack Girl.
See how little you can use to make the green beans really pop! I love salt, so I probably use too much :)
The entire recipe has 180 calories (4 Points+) and would make a great meal with some of your favorite rice. Just don't add any more salt to it because it is 1,200 mg of sodium for the entire dish. I was able to slash the oil and salt, but it is still pretty high for those concerned with heart disease.
This is great hot, cold, or room temperature and it would be a fantastic snack to put in a container and take with you to work, etc.
Have you "made over" Chinese food? Please share.
---
Asian Green Beans Recipe

(makes 4 side dish servings)

12 ounces green beans (stems removed)
1 teaspoon neutral oil (canola, peanut, vegetable, etc.)
2 cloves garlic, finely chopped

For sauce:
1 teaspoon sugar
2 teaspoons fish sauce
1 tablespoon oyster sauce

Mix sugar, fish sauce, and oyster sauce into a small bowl and set aside. Heat oil in saute pan until hot. Add garlic and cook for 15 seconds. Add green beans and stir until desired doneness. I sometimes add 1/4 cup water to the pan to steam them along. When cooked, mix in sauce. Enjoy!
45 calories, 1.3 g fat, 7.8 g carbohydrates, 1.8 g protein, 2.9 g fiber, 464 mg sodium, 1 Points+
---
Want to read about snacks?
Veggie Burgers Can Be Better Than Meat Burgers (Seriously)
Homeless People Don't Need Vegetables
When Less Fat Does NOT Equal Fewer Calories
Get Your Spring On With This Vegetable