Peanut Butter Lovers: A 45 Calorie Solution That Will Save Your Waistline
Snack Girl features peanut butter A LOT. I happen to love the stuff and I use it almost every day.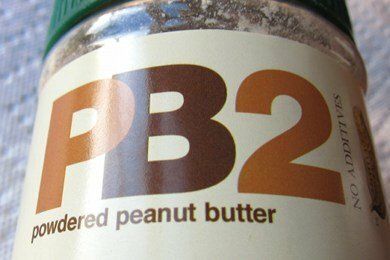 It is super nutritious. The best peanut butter is just roasted and ground peanuts without any extra sugar or oil. The processing of peanuts is minimal and it makes a spread that goes with so many fruits and vegetables.
For the people out there that are trying to slim down, peanut butter is a bit of a problem. Here are the nutritional facts for 2 tablespoons of plain peanut butter:
190 calories, 16 g fat, 7 g carbohydrates, 8 g protein, 3 g fiber, 0 mg sodium, 5 Points+
Ouch.
But, you get 4% of your daily value of iron, and 10% of your daily value of both vitamin E, and folate. This stuff is chocked full of nutrients so these are not EMPTY calories. (those are the worst :)
In my opinion, peanut butter should not be avoided because it IS nutritious.
What if you wanted to cut down on your peanut butter consumption? Like me, you might be using a bunch of it to make your apple, banana, or broccoli taste delicious.
Enter PB2, a powdered peanut butter that has 85% less fat calories than traditional peanut butter. Here are the nutritional facts for 2 tablespoons of PB2:
45 calories, 1.5 g fat, 5 g carbohydrates, 5 g protein, 2 g fiber, 94 mg sodium, 1 Points+
Yeahhhhh.
So, I was against trying this stuff because I thought it would taste yucky (to use a scientific term). I bought some of it on Amazon.com because so many people told me to give it a try. Here it is what it looks like: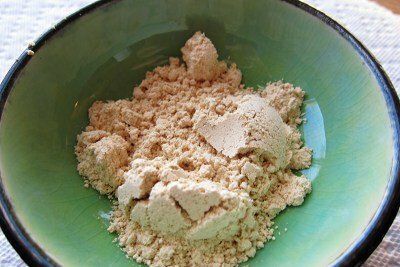 You mix it with water to make this: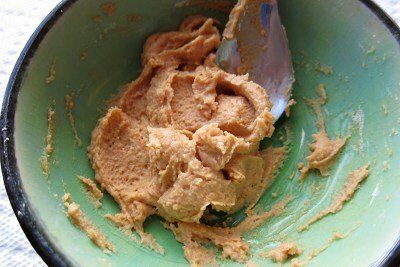 I got out some spoons and tasted it alongside my regular peanut butter. I am shocked and happy to say that PB2 tastes yummy. I would not have known that the fat was missing. It has a strong peanut flavor and in one swoop I save 145 calories!
There are some downsides to using PB2 instead of regular peanut butter:
It is expensive at over $7 a jar unless you buy it in bulk. (see note)
The nutrients are now missing from the peanut butter. I guess they left with the fat. 0% DV of Iron, etc.
You may have to special order it from Amazon or Bell Plantation. (hard to find in stores)
I am planning to use some regular peanut butter some of the time, and PB2 some of the time. I might add a dash to my smoothie and try my no bake peanut butter ball recipe with it.
Bell Plantation also puts out a PB2 with chocolate (that I haven't tried) - but it gets good reviews on Amazon. It has 45 calories for two tablespoons.
Do you use PB2? What do you use it for?
---
$7.21 ($1.11 / Ounce) Buy on Amazon.com
As an Amazon Associate, I earn from qualifying purchases.
---
$7.26 ($1.12 / Ounce) $6.25 ($0.96 / Ounce) Buy on Amazon.com
---
Other posts you might like:
---

Peanut butter is a great addition to a healthy snack. Spreading it on apples or crackers is an excellent way to add fat and protein (and taste!) to a dull food....
---

Do you love cookies but hate the work that goes into making them? My least favorite part is the clean up of the kitchen. argh....
---