Fall In Love With A New Whole Grain
The comfort zone of American cuisine is meat, potatoes, and a wee bit of vegetables. When it comes to whole grains, we are sadly lacking.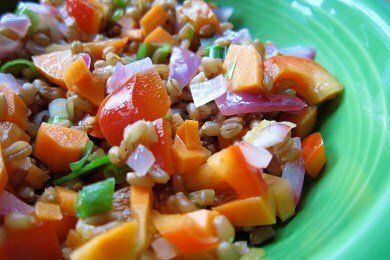 Two readers are interested in something called "Wheatberry Salad".
From Denise:
I would love to see an incredible recipe for Wheatberry Salad which can be a snack. Our local Shop Rite sells it in their deli, but I would much rather make my own.
Eva's mother wants to make it, too!
So, what is a Snack Girl to do but go hunt down some wheat berries? - a whole grain I have never tried.
At my local Stop & Shop, the deli was like, "huh? wheat crappies salad?" - when I asked for wheat berry salad. The store manager was equally confused, but he found packaged wheat berries for me.
They were in the natural foods section and look like this: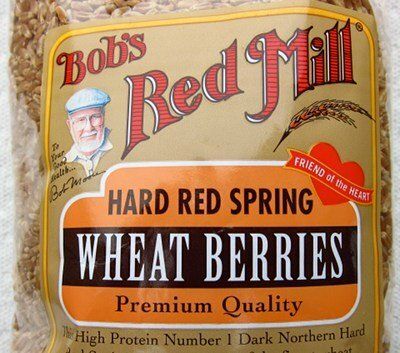 I spent $3 for a pound and I was a bit FREAKED by having so many of them since I had never tried them before. But, I have good news!
Wheat berries rock! If there was a match-up between barley, quinoa, and wheat berries, wheat berries would take them DOWN. Why do I like them?
They lack the DIRT taste component that I don't like about other grains. They are nutty and have a lovely consistency (not gummy or crunchy) and I fell deeply in love with them.
They are my new favorite whole grain - and I will pay you $1 to try them (not really).
What is a wheat berry? The term wheat berry refers to the entire wheat kernel (except for the hull), comprising the bran, germ, and endosperm. You are getting all the nutrition from the wheat grain.
This salad is a take on Ina Garten's wheat berry salad recipe. She uses the equivalent of 12 tablespoons of olive oil, and I felt that it would work with less.
I did use one trick from her recipe and cook the onions. For some reason, I can't eat raw onions anymore (age? personality?) and I liked the idea of a sweeter onion taste that you can get from cooking them. You can skip this step, but I wouldn't.
This is a great replacement for a macaroni salad at a BBQ. I designed the salad for eight servings because this keeps well in the fridge and is a fantastic lunch, breakfast, or snack.
Have any of you made wheatberry salad?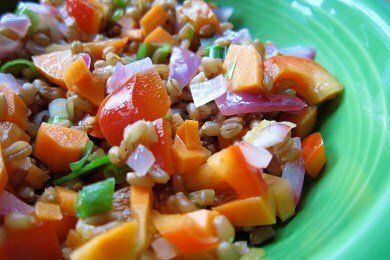 Wheatberry Salad Recipe

(8 servings)

Ingredients
2 cups wheat berries (soft or hard)
1/2 teaspoon salt
1 red bell pepper, diced
2 carrots, peeled and diced
1 medium red onion, chopped
6 scallions, white and green parts, sliced
4 tablespoons olive oil
2 tablespoons apple cider vinegar
1 lemon
salt and pepper (to taste)

Instructions
In a saucepan, place the wheat berries, salt, and 6 cups water. Bring to a boil, cover, and then simmer for one hour. Wheat berries are done when you like the consistency (chewy but not gummy).
While the wheat berries are cooking, do the necessary chopping (dice the pepper, carrots, and onion - slice the scallions). Heat the olive oil in a skillet over medium low heat and saute onions until translucent (about five minutes).
In a large bowl, mix pepper, carrots, cooked onion with olive oil, scallions and apple cider vinegar. Juice lemon and add to bowl.
When wheat berries are done, drain them in a fine meshed sieve and dump hot berries into bowl. Mix, taste, and adjust with salt and pepper. Let flavors meld for about an hour (or eat immediately).
Can be served warm, room temperature or cold and will keep in your fridge for four days.
Nutrition Facts
134 calories, 7.2 g fat, 16.0 g carbohydrates, 2.7 g protein, 1.6 g fiber, 165 mg sodium, 4 Points+
Points values are calculated by Snack Girl and are provided for information only. See all Snack Girl Recipes
Want to read about snacks?
A Refreshingly Sweet Zero Calorie Beverage With No Artificial Sweetener
Why Watermelon Makes Us Feel Good
Makeover The Best Selling Salad Dressing In America
Top Ten High Protein Snacks
---
Get Free Email Updates! Yes please!
---