Makeover The Best Selling Salad Dressing In America
Eating a lot of salad is a great way to maintain your health. And, when, you are asked which dressing you would like with that salad - many of you answer RANCH!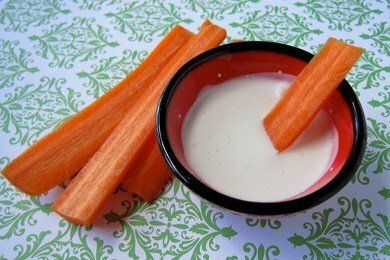 Why? Because it tastes SO good. Creamy, salty, sour, yummy!
And, while I would love to tell you that companies make it with delicious zero calorie AIR, they do not :) They use ingredients like mayonnaise and sour cream to make this dressing taste so good.
Personally, I don't see anything wrong with putting some fat on your salad. It is a great way to make those veggies palatable, and my kids will CHOW on carrot sticks if served some ranch dressing.
But, I did think it would be fun to see if I could cut the calories in ranch and get something recognizable. I managed to get my tablespoon of ranch dressing down to 26 calories. Kraft Ranch dressing is 74 calories per tablespoon.
How did I do it?
I substituted yogurt for the sour cream and then I made sure I added the SOUR back in with some apple cider vinegar. It works! This is a delicious salad dressing and no one will notice you dropped over 50 percent of the calories.
Trust me.
Now, for some extra added flavor add some garlic and/or some herbs that you may have in your fridge or garden. The more flavorful the dressing, the less of if you are going to use to make your salad pop.
Use any plain yogurt that you like - I used low fat plain yogurt.
Have you made over salad dressings? Please share your tricks.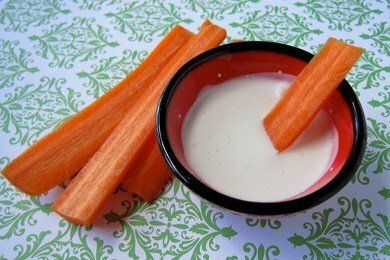 Lower Calorie Ranch Dressing Recipe
(makes 3/4 cup)
Ingredients
1/2 cup plain yogurt
1/4 cup mayonnaise
2 tablespoons apple cider vinegar
1/4 teaspoon salt
1 clove garlic, minced (optional)
minced fresh herbs (dill, basil, parsley) (optional)
Instructions
Mix ingredients in small bowl and serve. This dressing will keep in your fridge for 2 weeks.
Nutrition Facts
For one tablespoon = 26 calories, 1.8 g fat, 2.0 g carbohydrates, 0.6 g protein, 0 g fiber, 200 mg sodium, 1 Points+
Points values are calculated by Snack Girl and are provided for information only. See all Snack Girl Recipes
Want to read about snacks?
CLIF BAR Vs. SNICKERS: Are They BOTH Candy Bars?
Why Watermelon Makes Us Feel Good
Think Like A Vegan And Make Jicama Slaw
A Fruit You Just Gotta Try
---
Get Free Email Updates! Yes please!
---