Top Ten High Protein Snacks
Sometimes we have to change our diets for medical reasons and it isn't easy. For example, during my pregnancy my pals "Ben and Jerry" were getting a wee bit too friendly for my obstetrician.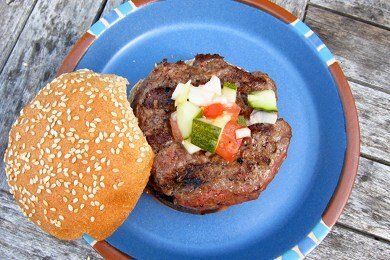 Dianne from Indiana wrote to me about her medical dilemma:
Could you feature a few more snacks that have protein in them or are high in protein? Since my gall-bladder surgery, I'm to eat less carbs and more protein for snacking.
Hard for me, since I LOVE carbs. And the only protein ideas I come up with are boring and the same old thing. Cottage cheese, cheese, meat, nuts.
What else? Isn't there something yummy and has some good protein too? Also...easy and quick to make? Or is that too many requests in one?
Sheesh, that IS too many requests in one :)
So, first I had to understand how one defines a high protein snack. I decided that the best measure was whether the grams of protein per serving was more than the grams of carbohydrate per serving.
There are some great snacks that include beans that are both high in protein and carbs, but I skipped those for this list.
The snacks below feature either dairy, meat, or eggs to get their high protein rating - but they also include vegetables or fruit and I hope Dianne finds them more interesting than the ones she is currently eating.
I included 3 packages snacks (7-10) for those of you in a rush.
1.

A 100 Calorie Pizza That Will Rock Your Sox
2.

How To Eat Less Red Meat & Still LOVE Your Burger
3.

Satan Would Hate This Recipe
4.

Elegant, Easy, and Under 100 Calories
6.

You Will LOVE This 81 Calorie Egg Recipe
7.

Mix It Up For A Delicious Snack
8.

Love Breakfast Sausage but Hate Jimmy Dean? Try This!
9.

The Benefits of Cheese Sticks
10.

You Have Never Had Beef Jerky Like This!
Please share your high protein snack ideas.
---
Other posts you might like:
---

I am betting that you are sitting in an office right now! Yes, I can see you in your cubicle with the florescent bulbs burning. Blub blub goes the water cooler.....
---

Are you financially stretched? Honestly, who isn't feeling the pain of our economic downturn?...
---