Comfort Food With Meatballs: No Elastic Waistband Needed
Can you go wrong with meatballs and pasta? Everyone in my family will eat it.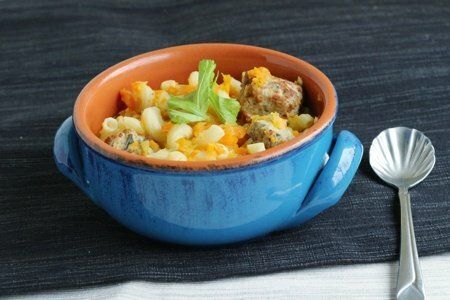 But, let's face it, they all love it for a reason. Meatballs tend to be salty and fatty – and pasta – well, that stuff is simply yummy – wish I could eat it all day.
This recipe features al fresco chicken meatballs and only ¾ cup dried pasta for four servings. The chicken meatballs are 160 calories for four and low in saturated fat. They are flavored with tomato and I love how they taste (you won't notice they aren't beef!).
I added celery and carrots to bulk up the soup without adding many calories and they add a nice flavor.
The serving size is large here (you get four meatballs and a cup and a half of soup) but you won't be stuffed like when you eat a ton of spaghetti and meatballs.
Eat this for dinner or for lunch. It heats up nicely in the microwave and everyone at work will be jealous of your lunch (you can share if you are feeling generous).
To find al fresco meatballs check out their Store Locator.
This product was received for review consideration. No other compensation was provided.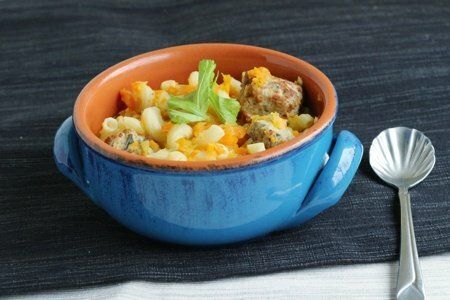 Meatball Soup Recipe
Makes 4 large servings
Ingredients
1 medium onion
2 large carrots, peeled
2 stalks celery, washed
2 teaspoons olive oil
40 ounces (5 cups) unsalted chicken broth
3 ounces (3/4 cup) elbow macaroni
1-12 ounce al fresco Tomato Basil Chicken Meatballs
Instructions
In a food processor or on a cutting board mince the onion, carrots, and celery. Heat a large saucepan on medium, add the olive oil, and sauté the onion, carrots, and celery until softened.
Add the chicken broth and bring to a boil. Cook the elbow macaroni in the boiling broth until tender (about 6 minutes). Add the meatballs and heat for five minutes until hot. Enjoy!
Nutrition Facts
317 calories, 11.8 g fat, 3.4 g saturated fat, 28.6 g carbohydrates, 8.1 g sugar, 24.6 g protein, 2.4 g fiber, 569 mg sodium, 8 Points+
Points values are calculated by Snack Girl and are provided for information only. See all Snack Girl Recipes
Other posts you might like:
---

Does Snack Girl look like she has time to make meatballs? Look at me up there! I look busy....
---

Looking for a way to drink hot chocolate without a bunch of calories? The stores are filled with artificially sweetened hot cocoa mix that tastes...well...okay....
---
---
Get Free Email Updates! Yes please!
---