The Tiniest (and Yummiest) Pizzas on The Planet
The quest for the quickest (and healthiest) pizza continues! One dedicated Snack-Girl reader, Theresa, sent me her solution for a pizza makeover after I posted English Muffin Pizza.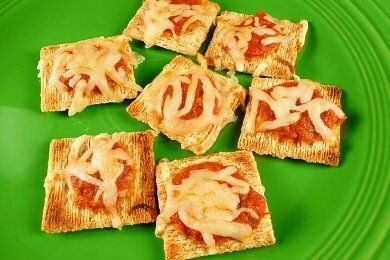 From Theresa:
My family and I recently tried these (English Muffin Pizzas). They were good, but a little soggy with the tomato sauce going on the muffin before broiling. Anyhow, we decided to go more crunchy! We took the Triscuit crackers (I like the cracked pepper, the rest of the family does the reduced fat), then add the sauce and LF cheese, then microwave until cheese it melted. Many "mini pizzas", VERY quick, low calorie and tasty! Just food for thought. :)
I think these are a GREAT idea. I reviewed Triscuits, and I think they are very healthy for a packaged snack. They include just wheat, oil, and salt for ingredients.
I love these because they are bite-sized. They ARE much crunchier, and so easy to make. These would make a great party snack.
One caveat, they did not taste delicious cold. I would serve these as soon as possible out of the oven. I used my broiler, but Theresa used her microwave. Give it a try!
Thanks Theresa!!!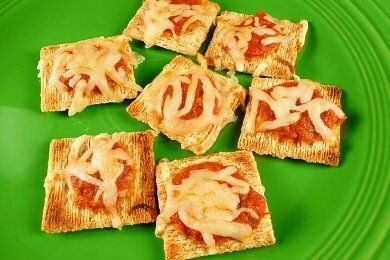 Mini Mini Pizzas
Ingredients
1 box Triscuits (your favorite flavor)
1 jar pizza sauce
1 package grated low-fat mozzarella cheese
Instructions
Place Triscuits on a rimmed cookie sheet (lined with either parchment paper or aluminum foil for easy clean-up). Spread on sauce, and sprinkle on cheese. Toast until cheese is melted and serve immediately.
Nutrition Facts
For 5 cracker serving: 100 calories, 4.5 g fat, 10 g carbohydrates, 5.5 g protein, 1.5 g fiber, 180 mg sodium, 3 Points+
Points values are calculated by Snack Girl and are provided for information only. See all Snack Girl Recipes
Want more like this?
Kale Chips
Quick and Healthy Pizza
Fun for kids to make and eat (adults too!)
---
Get Free Email Updates! Yes please!
---