Little Bites With Big Flavor: The Mini Reuben
Does anyone else out there love deli sandwiches? You know the ones I am talking about.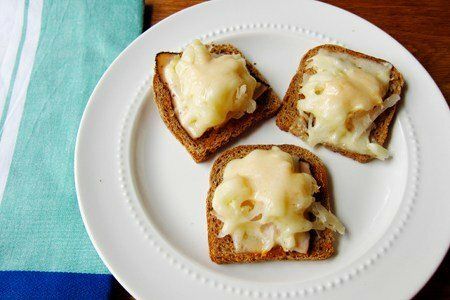 They include stuff like coleslaw, Thousand Island dressing, lots of meat, bacon, and melty cheese. The bread is usually stacked a couple of slices thick and when you order it, you wonder how you are EVER going to finish it.
The Reuben is one of those sandwiches. Typically made with pastrami, Thousand Island dressing, sauerkraut, and swiss cheese, it is a site to behold. If you are lucky enough to have one of these in New York City where they may have originated at Reuben's Delicatessen, you will fall in love (with the sandwich not necessarily the person you are eating with).
This Mini Reuben is the BEST little snack for watching football or a debate. You can eat three of these cuties instead of a large sandwich and feel satisfied.
I love how it incorporates a bunch of pickled cabbage (sauerkraut) so you get some veggies with your snack.
There is no real cooking here. Heck, you don't even need an oven! Just use a toaster oven to cook these for about 6 minutes.
You can find rye cocktail bread in front of the deli section of your supermarket. If you can't find it, just cut up a loaf of rye into smaller pieces. I used turkey pastrami for this, but almost any salty deli meat would work.
Also, I didn't use Thousand Island dressing because I didn't have any so I just mixed some mayo and ketchup together. If you have pickle relish, that would be a nice addition to the spread.
Do you love deli sandwiches? Which are your favorites and have you tried to make healthier substitutes?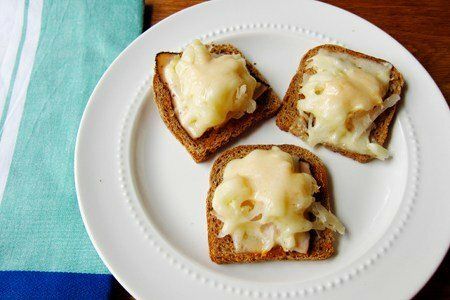 Mini Reuben Recipe

(makes 24)

Ingredients
¼ cup mayonnaise
2 tablespoons ketchup

1 cocktail loaf of rye bread
1 pound fresh sauerkraut (next to hot dogs in supermarket)
½ lb turkey pastrami
½ pound sliced Swiss cheese

Instructions
Heat oven to 400 F. For easy clean up, line a baking sheet with foil Mix mayonnaise and ketchup in a small bowl. Put 24 slices of bread on sheet and spread with ¼ teaspoon of the mayonnaise ketchup mixture. Add a small slice of pastrami, one tablespoon of sauerkraut, and a drizzle a little more "sauce". Place a piece Swiss cheese on the top.
Bake for 6-8 minutes. Enjoy! You can make these ahead and just heat them when you are ready to eat them. Also, you can make a bunch and put them in your lunch box for a great room temperature sandwich bite.
Nutrition Facts
For one mini sandwich = 57 calories, 3.0 g fat, 4.4 g carbohydrates, 1.0 g sugar, 3.4 g protein, 0.3 g fiber, 246 mg sodium, 2 Points+
Points values are calculated by Snack Girl and are provided for information only. See all Snack Girl Recipes
Other posts you might like:
---

You don't need to be a rocket scientist to get why these caramel apples are healthier....
---

Snack Girl doesn't believe in guilt about food. For me, there is no "good" food vs. "evil" food....
---
---
Get Free Email Updates! Yes please!
---