Have it Your Way (and I'm not talking about BK)
Snack-Girl has become a cereal magnet now that she starting writing about breakfast. The best part of this new development is that yummy things show up on my doorstep.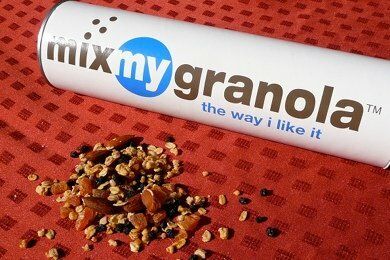 Mix My Granola is a company that allows you to choose what goes in your granola - and then they mail it to you in a cool looking tube.
I would have brushed this off as a gimmick, except that the stuff tastes really good and is a much higher quality than many packaged granolas at the supermarket.
Remember Chocri Bar, where you can design the chocolate? Mix My Granola is the same concept applied to cereal.
They have a low-fat granola mix, an organic mix, or muesli which you can then add fruits, nuts, and extras. The extras are things that you want to avoid because they are mostly candy (think organic gummy bears).
BUT, you are going to pay for it. Depending on what you add, you are looking at $14 or so a pound including shipping. The good news about this, is that you won't be dumping big handfuls into your bowl. Granola is high calorie remember!
I have been eating mine, sparingly, and really enjoying it. It has ALOT of nuts and dried fruit, and if I had paid the $14, I wouldn't be disappointed.
The next time you need a groovy gift idea for a hippie chick, just give her a tube of this. You can put a custom photo on the tube. Who wouldn't love a tube of granola designed for them? It's pretty original!
Or let your kids design their own cereal so they stop bugging you for Cocoa Puffs (just keep them off the EXTRAs page).
This product was received for review consideration. No other compensation was provided.
What do you like in your granola? Please share below.
Want to read about snacks?
Sneak Healthy Dip into Your Super Bowl Party
How To Make A Healthy and Glamorous Snack
Turn Cauliflower into YUMMYflower