What Is Your Favorite Salsa?
Salsa is one of those rare food that gives you LOTS of flavor for very few calories. (Why, dear butter, haven't you learned from salsa?)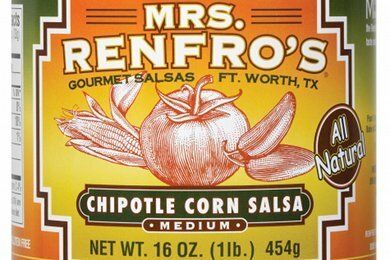 AND, you get to add a serving of vegetables to your dish. How can you go wrong?
Snack Girl hadn't actually met great salsa until she visited the great state of Texas in 1991. There she tasted a combination of salsa and eggs for breakfast and realized she was missing out!
Tomatoes, onions, cilantro, chiles, and eggs for breakfast? That was a true awakening. This meal went well with my favorite breakfast drink, coffee.
So, when Mrs. Renfro's of Fort Worth, Texas asked to send me salsa - I was psyched! Of course, I prefer fresh salsa, but it isn't tomato season so I'm not making my own right now.
Mrs. Renfro's makes a bunch of different flavors and I had actually already bought their "Green Salsa" from my local Stop & Shop.
Two tablespoons include 10 calories and this is the ingredient list:
jalapeno peppers, water, onions, distilled vinegar, corn starch, salt, spices, garlic
It was really good. My favorite is the Chipotle Corn Salsa which lasted in my fridge for about 30 seconds. The Mrs. Renfro's website suggests pouring it over pasta with some grilled chicken. I think this meal would be divine.
For those of you who like danger, give the Ghost Pepper Salsa a try - "The ghost pepper takes on many forms - pepper spray, hand grenades, smoke bombs… and now salsa!" - I tried it and now I use it in VERY limited quantities to add some spice.
Mrs. Renfro's is giving away four jars of salsa to a lucky Snack Girl reader.
Check out Mrs. Renfro's and comment below on your favorite flavor and you are entered.
This product was received for review consideration. No other compensation was provided.
---
What will I win?

Four jars of Mrs. Renfro's Gourmet Salsa - you choose the flavors.
How do I enter?
Visit Mrs. Renfro's and comment below on your favorite salsa.
Additional Ways To Enter:

Follow Snack-Girl on FaceBook. Comment on the FB page on your favorite salsa.

Follow Snack-Girl on Twitter and Tweet this post (use the Tweet Button in the Share Box at the top of this post).

Snack-Girl can follow and count all the additional entries using magical website tools.
Am I eligible to enter?
This giveaway is offered to US residents only.
When do I find out if I am the winner?
The winner will be announced on April 1st, 2011. You will have 2 weeks to e-mail us back with your home address so we can mail the prize.
---
Want to read about snacks?
The Latest In Snack Food Hype: Beware
Replace French Fries with This Easy and Healthy Snack
Weight Watchers Friendly Recipes on Snack Girl
This Green Smoothie Does NOT Taste Like Grass