When Multigrain Means.....Nothing
Snack Girl recently hosted a guest post on Tostitos that created a lot of controversy. It even generated an invitation to visit a Frito-Lay facility (hurray!).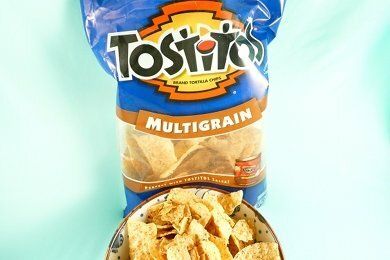 During the discussion, someone asked me about Multigrain Tostitos and I had no idea they existed. Here is the (slightly shortened) ingredients: Corn, Vegetable Oil, Corn Starch, Whole Buckwheat Flour, Whole Oat Flour, Sugar, Toasted Corn Germ, Whole Wheat Flour, Salt.
Basically, you have a corn chip with a few added grains - buckwheat, oats, and wheat - and therefore it is multigrain. Does that make it healthy?
There are some really great things to say about these chips. Mostly it is about what they aren't (Doritos). No MSG, Trans Fat, artificial colors, preservatives (other than salt) are in Tostitos. They are, in my opinion, a much better choice than Doritos.
BUT, they are still a highly processed high glycemic food. Tostitos have carbohydrates that break down quickly during digestion and release glucose rapidly into the bloodstream. In other words, you are eating a food that is one digestive step away from sugar.
The problem with high glycemic foods is that they have been linked with diabetes, cancer, and even heart disease. Tostitos are a treat - not a healthy snack. The ingredient list isn't going to fix the fact that the processing of the chip has turned it into something the body uses as sugar.
Don't get tricked by the word MULTIGRAIN. It doesn't mean healthy - it just means many grains.
The best grains you can eat are 100% WHOLE grain, unprocessed, and full of nutrients. See Toast for a discussion about how to identify whole grains in bread.
These tasted much like just regular Tostitos, and I enjoyed them with A LOT of healthy fresh salsa.
What do you think of Multigrain Tostitos?
Want to read about snacks?
Banana Quesadilla: A Delicious After-Exercise Snack
Smokeratoes: A Fabulous New Snack
Have a Healthy Brownie! (a Mere 77 Calories)
How To Find Great Fruit and Veggies