Banana Quesadilla: A Delicious After-Exercise Snack
Whether you do yoga, walk, spin, bike, run, or swim, you usually get hungry after activity. Many people reach for energy bars such as PowerBar, but with a little creativity, you can do a WHOLE lot better.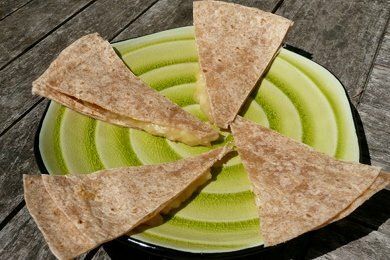 I love sweet things so for me a Banana is a great choice. But, what if I am really hungry? I heard about this banana quesadilla on Fit Sugar and I just had to try it.
You use whole grain tortillas that you can find in the refrigerated section of your supermarket. Trader Joe's also makes great ones. You mash the banana and spread peanut butter (or any other nut butter) on your tortilla.
And, THEN, the best part. You heat it up. This renders the banana all mushy and the tastes collide into an orbit of deliciousness. I am serious. You will never eat a PowerBar again if you try this.
Of course, you are going to need a kitchen or access to a microwave (can't shove this in your gym bag - yuck!).
This snack will take you less than 2 minutes to make. If you have a potato masher (see below) the whole process is sped up.
Kids will love making this and it is a great after school snack. They can mix other things into the quesadilla such as raisins or other yummy things to make it their own.
---
Banana Quesadilla

(serves 2)

2 whole grain tortillas
1 ripe banana
1 tablespoon peanut butter
a few chocolate chips (optional)

Mash banana in bowl with potato masher. Spread peanut butter and banana on tortilla, add chocolate chips, and top with other tortilla. Warm in microwave for 20 seconds (depending on your microwave).
For 1/2 quesadilla = 152 calories, 4.9 g fat, 25.8 g carbohydrates, 4.0 g protein, 3.5 g fiber, 48 mg sodium, 3 Points+
---
currently unavailable Buy on Amazon.com
As an Amazon Associate, I earn from qualifying purchases.
---
What is your favorite after exercise snack?
Want to read about snacks?
Have a Healthy Brownie! (a Mere 77 Calories)
Stuff It! (I'm Talking About Mushrooms, Of Course)
3 Reasons to Avoid Ritz Crackers
How To Find Great Fruit and Veggies