Nature Valley Granola Thins: Are These What Nature Intended?
Chewy, crunchy, thin and all sorts of other adjectives are assigned to granola bars by food manufacturers. "Nature Valley" uses the word "natural" A LOT!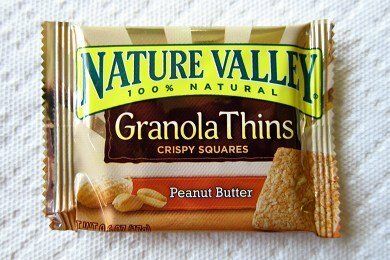 They use NATURAL so often, you would think this stuff is made of dirt, rocks, and water.
In fact, part of their food marketing campaign includes preserving our national parks. They are going to give $400,000 to the National Parks Conservation Association!
Now, I will point out that General Mills makes Nature Valley granola bars. General Mills generates nearly $15 billion dollars in annual sales. They even managed to grow their sales 2% last year (2010).
So, 400K for our nation's parks is a literal DRIP in the bucket for Nature Valley - what about the claim that they are 100% natural?
Here is the ingredient list for their peanut butter crunchy granola bars:
whole grain oats, sugar, canola oil, peanut butter, yellow corn flour, brown sugar syrup, soy flour, salt, soy lecithin, baking soda
Well, there is no dirt, rocks, or water - but, I recognize all the ingredients except for "soy lecithin".
and the nutrition facts for one bar:
90 calories, 3.5 g fat, 14 g carbohydrates, 2 g protein, 1 g fiber, 90 mg sodium, 3 Points+
You know, these are a bit too sweet for my tastes. This granola bar isn't bad for a packaged snack - as long as you can eat just one bar in the package of TWO.
But, Nature Valley is one step ahead of me with their latest product: Nature Valley Granola Thins!
These are individually wrapped granola bars that they feel is an "indulgence you can feel good about". They are not that big of an indulgence see the nutrition facts here:
90 calories, 4.5 g fat, 10 g carbohydrates, 1 g protein, >1 g fiber, 85 mg sodium, 2 Points+
Just like a homemade oatmeal cookies are an all natural indulgence - so are the Nature Valley Granola Thin. You can feel good about them because they taste good and you gave yourself a TREAT.
General Mills got it right when they called them an "indulgence". My problem is their product placement in the store. They are in the cereal aisle at my local Stop & Shop. I think they belong in the COOKIE aisle.
Don't you?
Of course, many of the cereals could be confused with cookies as well.
Nature Valley granola bars (sadly) aren't that different from a cookie. You would think that the whole grains would have more of an impact on the protein and fiber content - but those values remain low.
My suggestion is to use these as a treat in your lunch box (or your kids lunch box) when you haven't had time to make my cereal bar with zero sugar added.
What do you think of Nature Valley granola thins?
---
Want to read about snacks?
Top Ten Office Snacks
Kid's Menus: Is This The Best We Can Do?
This Muffin Can Save Your Life
McDonald's Makeover? The New Chicken Classic (350 Calories)