What Nutella Leaves Out of Its Commercials
Snack Girl would love a breakfast spread that has no artificial colors or preservatives and has 50 hazelnuts per jar that makes my morning easier.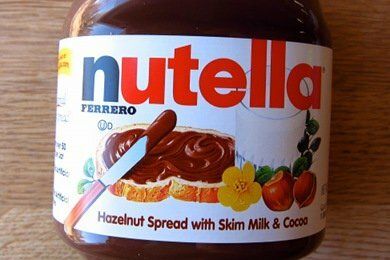 Wow! What could this magnificent stuff be? Nutella, of course. Made with cocoa, hazelnuts, and LOVE. Your children are going to go bananas for this stuff.
Let us take a good look at their commercial:
and now, their ingredients:
sugar, palm oil, hazelnuts, cocoa, skim milk, reduced minerals whey (milk), lecithin as emulsifier (soy), vanillin: an artificial flavor.
SUGAR! SUGAR! SUGAR! is the first ingredient.
The breakfast that Nutella advocates (a glass of skim milk, orange juice, and Nutella on whole wheat bread) has a whopping 10 teaspoons of sugar per serving.
Try spooning 10 teaspoons of sugar in your mouth and see how your day goes. Or maybe you should just serve your child a Coke for breakfast.
A mom in California is actually suing the maker of Nutella for deceptive advertising see here: NPR Article.
I'm planning on suing Nutella because of the unrealistic depiction of a mother at breakfast time. Where is the ponytail? Why is your shirt so clean? And, why are those children so silent?
Ummm, yeah, so Snack Girl happens to love Nutella, but not for breakfast. It is a treat! With its 21 grams of sugar per 2 tablespoons, I use this stuff rarely.
How does Nutella compare to America's favorite spread, peanut butter? The best peanut butter has just 3 grams of sugar for 2 tablespoons. So, you are adding more than SIX times the sugar by using Nutella.
So let's say you bought Nutella, your kids love it, and now after reading this you are a bit upset. Do I have a solution for you!
Frankly, I don't even want to mention this product because it is so addictive, but I am going to share.
Peanut Butter and Co. has mixed chocolate and peanut butter and, get this, it is only 7 grams of sugar per serving. Somehow, these guys managed to add just a little bit (1 teaspoon) to get a flavor that is just fantastic. (see below)
I bought a jar for $6 (ouch) and while it isn't the healthiest peanut butter around - you will do much better than Nutella. Their ingredients:
Peanuts, evaporated cane juice, cocoa, cocoa butter, palm fruit oil, vanilla, lecithin (from sunflowers), salt.
So, now you are adding a teaspoon of sugar to your breakfast (compared to plain peanut butter) and now you should lose the juice and add some strawberries and I think you are doing pretty great!
What do you think of the Nutella ad? Have you tried "Peanut Butter & Co."?
---
$24.33 ($0.25 / Ounce) Buy on Amazon.com
As an Amazon Associate, I earn from qualifying purchases.
---
$39.24 ($0.41 / Ounce) Buy on Amazon.com
---
Want to read about snacks?
Natural Jif: What's The Dif?
Replace French Fries with This Easy and Healthy Snack
Try This: Vegan Toast
How To Choose Healthy Peanut Butter