Triple Zero Oikos: A Surprisingly Good Find in Greek Yogurt
Those black containers up there with the NFL logo don't exactly look like they are being marketed to women.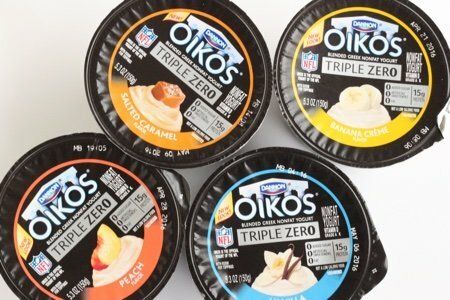 My favorite kind of flavored yogurt is one that I mix myself – take a look at The Best Brand of Yogurt You Can Buy.
A reader asked me to take a look at these black yogurts and I found myself intrigued because I hadn't noticed that Oikos Greek yogurt had put out a new line. This subset is called Triple Zero (Dannon 000 Greek yogurt) and it means it has:
Zero artificial sweeteners (but it uses Stevia)
Zero fat
Zero added sugar
What it does have is real yogurt (active cultures) and 15 grams of protein per serving.
Here are the nutritional facts for the peach flavor:
120 calories, 0 g fat, 0.0 g saturated fat, 15 g carbohydrates, 7 g sugar, 15 g protein, 6 g fiber, 65 mg sodium, 3 SmartPts
Ingredients: Cultured grade A non fat milk, chicory root fiber, contains less than 1% of water, natural flavors, malic acid, stevia leaf extract, sea salt, annatto extract and beta carotene (for color), vitamin D2, sodium citrate.
Notice how they ignored the 100 calorie benchmark, which I think is a good thing.
Do not expect to find any fruit in these yogurts. The 7 grams of sugar is due to the naturally occurring sugar in yogurt – and since they promised no added sugar – they have only used natural flavors (instead of adding fruit which contains sugar). The peach yogurt is peach flavored without any physical peach in it. This is true for all of the Oikos flavors that I purchased.
They used beta carotene (I'm guessing from carrots) to get the orange color and there were no artificial colors either.
Okay, so if you aren't freaked out that this yogurt isn't TRULY peach yogurt then this might be for you. The sugar amount is perfect for a snack and the flavor was surprisingly good. I didn't get a bitter aftertaste kick from the Stevia and it felt like I was eating a regular peach yogurt. I was truly surprised that I liked it - I was ready for it to taste like a chemical soup.
The rest of the flavors I tried (except for the vanilla – which was a bit weird) were pretty good. If you love flavored yogurt and are looking for a low sugar option - here it is!
If you want to read more yogurt reviews check out my Greek Yogurt Taste Off.
Please share your thought on Triple Zero Oikos.
I bought these items with my own money and have no relationship with Danone Group.
Other posts you might like:
---

What happens when a large food corporation buys a small, organic yogurt operation?...
---

Do I want to find a place that serves reasonable priced healthy food on the go? Yes!...
---