A New Spin on Fried Eggs
Snack Girl loves eggs. They are nutritious, cheap, and fast to cook.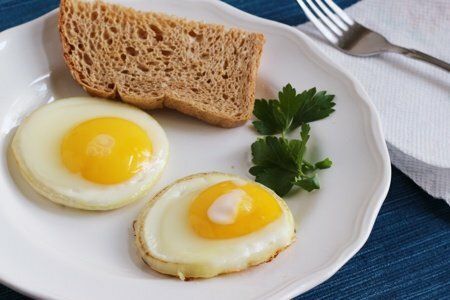 They are a form of "fast food" when you think about it. How long does it take you to fry an egg?
The only problem is they get a bit boring. My favorite additions to scrambled eggs are salsa, chipotle sauce, cheese, chopped green or red pepper, and scallions.
This spin with an onion is maybe the winner of "Most FUN Way to Make Sunnyside-up Eggs". All you do is slice an onion and grab the biggest circle you can find, sauté for about 2 minutes, and drop in your large or medium egg (extra large would be too big).
The onion gets sweet and imparts a wonderful little CRUNCH to the soft egg. These are tasty and you can make them ahead for a quick heat-up in the microwave.
For those of you who worry about "onion breath", the onion does cook down and is not raw.
If you are lucky enough to find "Vidalia" onions, use them for this recipe. They are from Vidalia, Georgia and they are unusually sweet for onions. The Vidalia onion is Georgia's state vegetable (not kidding). Check out Vidalia Onions for coupons.
How do you make eggs interesting?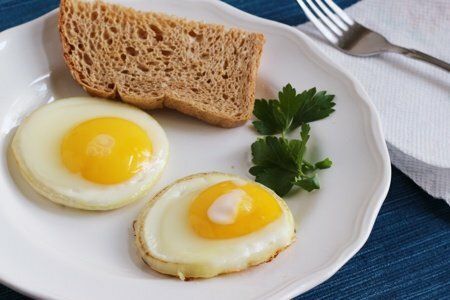 Onion Ring Fried Eggs Recipe

Makes 1

Ingredients
1 large or medium egg
1 large onion

Instructions
Heat a frying pan on medium high. Slice the onion through the middle to get the largest ring. Put the ring in the skillet and heat for 2 minutes until softened. Flip over the onion ring, and crack the egg into the center of the ring. Cook for 5 minutes or until yolk is hardened to your liking.
Nutrition Facts
72 calories, 5.0 g fat, 1.6 g saturated fat, 1.2 g carbohydrates, 0.7 g sugar, 6.3 g protein, 0 g fiber, 62 mg sodium, 2 Points+
Points values are calculated by Snack Girl and are provided for information only. See all Snack Girl Recipes
Other posts you might like:
---

When someone shows up to your house with sour cream, French onion soup mix, and a bag of Ruffles - you know you are in heaven....
---

Are you bored with hard boiled eggs? Yeah, they are dull. Let me introduce you to an old friend...
---
---
Get Free Email Updates! Yes please!
---