The Cheapest And Healthiest Snack In The Snack Aisle
The snack aisle is one of the worst places in the grocery store to find a snack. But, there is an exception.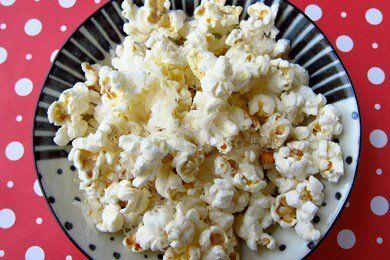 You can find bags of unadulterated popcorn. A serving of this WHOLE GRAIN is a mere 5 cents. Popcorn is dried corn - and when you pop it you are just heating it up.
THREE cups of air-popped popcorn is:
92 calories, 1.0 g fat, 18.7 g carbohydrates, 2.9 g protein, 3.6 g fiber, 1 mg sodium, 2 Points+
Of course this nutritional assessment is BEFORE you add the salt and butter which will turn a healthy snack into a treat.
We used to pop popcorn on the stove in a couple tablespoons of oil before we learned some new tricks (and you don't need an air popcorn popper).
If you have a microwave oven, you can make popcorn with just a paper bag see: DIY Microwave Popcorn: Healthy, Yummy, and CHEAP. You can also buy the bowl featured below (reuse!) and pop it in there without any oil.
Both the bag and the bowl turn out great tasting popcorn (you won't miss the oil or the flavored packaged stuff). You just have to be very careful not to burn the popcorn. In the bowl, it takes about two minutes and thirty seconds to pop 1/4 cup popcorn.
I happen to love butter and salt on my popcorn, but I had to face a hard cold reality. If I use two tablespoons of butter, I am adding 204 calories and 23 grams of fat.
So, I looked for a lighter alternative. Parmesan cheese is a great choice because it is flavorful and lower in fat than many cheeses. Two tablespoons of grated parmesan is only 43 calories and 2.9 grams of fat.
The combination of parmesan and pepper is flavorful and a bit addictive. There are a bunch of different ways to flavor popcorn that don't include butter. How about:
Chili powder and lime juice
Old Bay Seasoning (seafood seasoning)
Curry powder
Nutritional yeast
I posted a maple syrup and peanut butter combo that is a family favorite - see it here: Makeover Kettle Corn Into "Can Do" Corn.
What is your favorite way to flavor popcorn?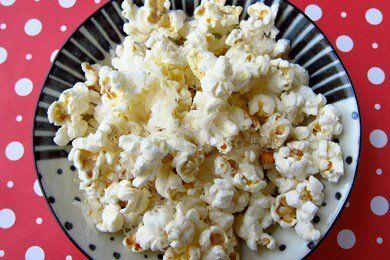 Parmesan Pepper Popcorn Recipe

(makes 1 serving)
2 cups air popped popcorn
2 tablespoons grated parmesan cheese
ground pepper to taste

Mix popcorn and cheese in bowl. Grind pepper to taste and enjoy!
One serving = 104 calories, 3.5 g fat, 12.9 g carbohydrates, 5.8 g protein, 2.4 g fiber, 154 mg sodium, 3 Points+
Points values are calculated by Snack Girl and are provided for information only. See all Snack Girl Recipes
$15.99 ($15.99 / Count) $14.99 ($14.99 / Count) Buy on Amazon.com
As an Amazon Associate, I earn from qualifying purchases.
---
Other posts you might like:
---

Popcorn is a whole grain snack that is really low in calories and has that great crunch we crave. But, the packaged stuff in the supermarket is expensive and can be high in sodium....
---

Kettle corn has that perfect combination of crunchy, salty, and sweet that keeps you eating it long after you should stop....
---
---
Get Free Email Updates! Yes please!
---