Pasta Zero: Real Pasta For 15 Calories Per Serving?
Here I am again, playing the guinea pig. Why me?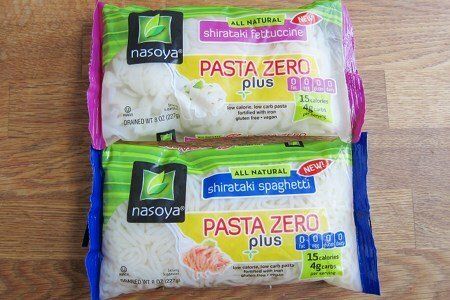 I ask you that because I don't get to sample fine wines or chocolates to review on this website. Instead, I get to try translucent, gelatinous, Japanese noodles. Argh.
I have reviewed this type of noodle before - Guilt Free Noodles And Rice: How Miraculous Are They? – but the company that made them, "Miracle" brand, is different from Nasoya.
Unlike the "Miracle" noodles, I can buy these at my local Stop & Shop and they are made with a few different ingredients. Also, they are 15 calories per four ounce serving versus ZERO.
Here is the ingredient list:
water, potato starch, konjac flour, chickpea flour, calcium hydroxide, reduced iron, folic acid
This is a bowl of Shirataki fettuccine: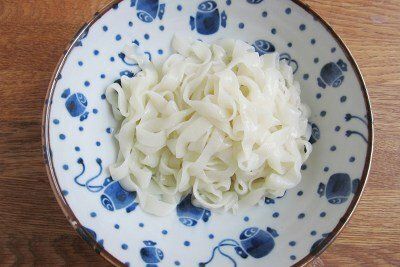 The preparation is easy. You rinse them in a colander and then heat them in the microwave. Done.
What did I think? I liked these a lot more than the Miracle noodles. Why? The Pasta Zero noodles:
1. Do not smell like fish.
2. Are easier to prepare.
3. Taste pretty good.
I ate these with nothing on them, which I do not recommend. What I discovered is that Shirataki noodles are traditional noodles from Japan. These are not a strange creation dreamed up by a company for us to lose weight like "olestra".
These do not remind me of Italian pasta. They do remind me of rice noodles and I think they would be great in a stir-fry or an Asian inspired dish such as Pad Thai.
On the Nasoya website there is an Asian Cold Noodle Salad that would be excellent with these.
If any of you have tried the Miracle noodles and found that they did not agree with you (digestive issues), give these a shot. I believe they are different enough to not cause you a problem.
Nasoya Pasta Zero is found in the produce section next to the tofu, and costs $2 for an 8 ounce bag.
Have you tried Pasta Zero? What do you think?
This product was received for review consideration. No other compensation was provided.
---
Other posts you might like:
---

Snack Girl is delving into the world of the zero calorie noodle. You heard me, ZERO calories....
---

Want your pasta to be zero calories and still taste like pasta? Maybe I have found a solution....
---