Peanut Butter Chocolate Chip Oatmeal Bars
Oh, peanut butter, why do I love thee? Let me count the ways.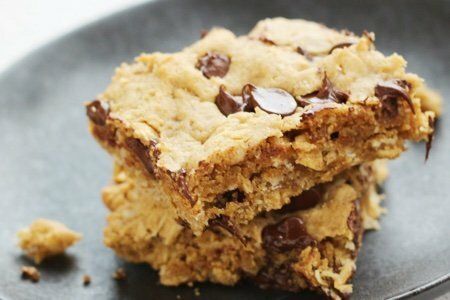 Peanut butter, in its natural form (nothing added) is an inexpensive way to boost nutrition in baked goods. Instead of using lots of butter and sugar, you can get protein, flavor, and "plant fats" from peanut butter.
I am always looking for ways to make baked goods into a healthier treat and the results can be a bit strange. It doesn't always work to use whole wheat flour instead of white or leave out sugar. This recipe surprised me because it was SO good.
This bar is like a brownie but better! I used honey instead of refined sugar and oats and whole wheat flour instead of all purpose flour and you can't even tell.
Also, I cut the sugar in half from a regular bar recipe. The chocolate chips make this all work. I like the darkest chocolate chips I can find because I think they are more flavorful. Ghiradelli makes a 60% cacao version which is dreamy.
Go with regular semi-sweet if that is all you can find or afford. Not only is this a better baked concoction, but it is super easy! One bowl, one pan, and 15 minutes later you have your treat. My kids gobbled these up (chocolate!) and demanded more.
My daughter is now 12, so I simply hand her the recipe and walk away. (Then, I end up cleaning peanut butter off the wall but you get used to it.) These are delicious the day you make them but they are also fine a few days later. The moisture from the peanut butter seems to give them staying power.
I eat them with coffee in the afternoon for a pick me up or bring them to my book club (and I don't mention the lack of refined sugar).
After making these, you will never buy a crappy plastic bowl of cookies from the supermarket again to bring to an event. Why would you? These are finished almost faster than waiting in the check-out line.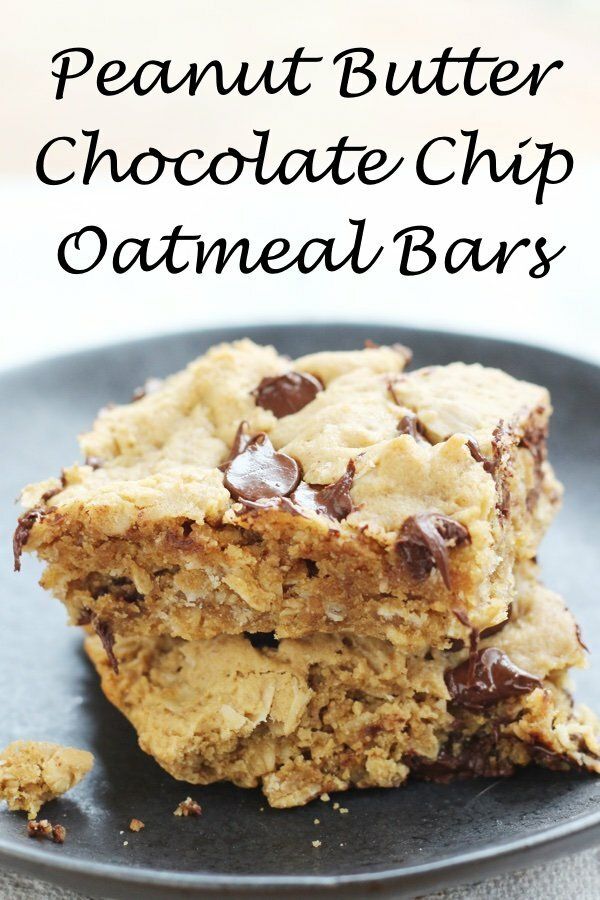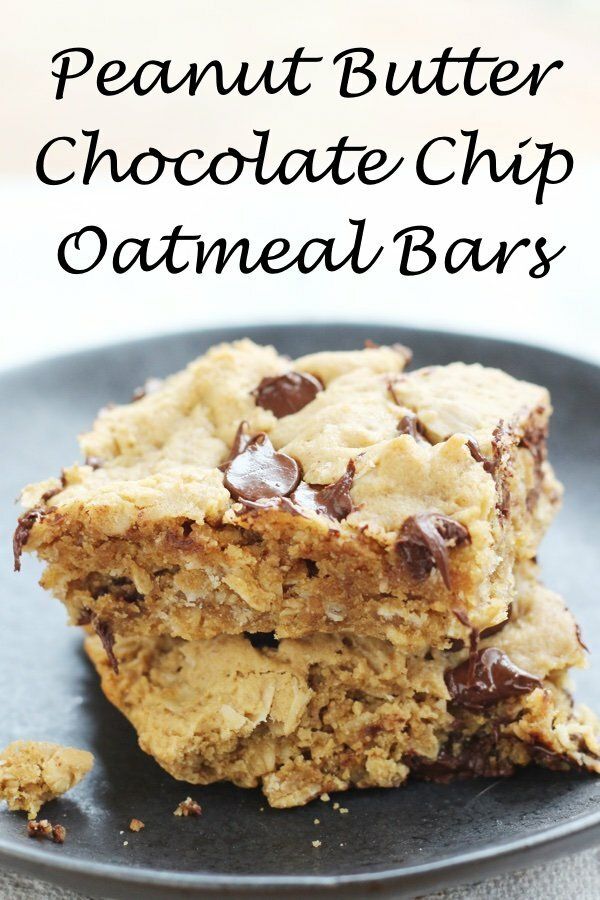 Peanut Butter Chocolate Chip Oatmeal Bars

Makes 16 small bars
½ cup creamy all-natural peanut butter (no sugar added)
¼ cup honey
2 tablespoons butter, melted or coconut oil, melted
1 large egg
1 teaspoon vanilla extract
1 cup whole rolled oats (not instant)
¾ cup white whole wheat flour
¼ teaspoon salt
½ teaspoon baking soda
½ cup chocolate chips

Heat oven to 350 F. Line a small casserole or 8x8 baking pan with parchment paper. In a large bowl, mix peanut butter, honey, butter, egg, and vanilla. Add oats, flour, salt, and baking soda and mix until combined. Fold in chocolate chips. The dough at this point is more like play dough than cake batter. It is very sticky. Spread dough onto parchment paper and bake for 15-18 minutes until lightly browned.
Allow to cool for at least 10 minutes until slicing into portions. Store for up to one week in an airtight container in the refrigerator.
For one bar = 148 calories, 7.8 g fat, 3.0 g saturated fat, 16.5 g carbohydrates, 8.1 g sugar, 4.3 g protein, 1.8 g fiber, 130 mg sodium, 6 SmartPts
Points values are calculated by Snack Girl and are provided for information only. See all Snack Girl Recipes
Other posts you might like:
---

To say that I am a bit obsessed with my waffle iron is an understatement....
---

This isn't really a cookie, but it is pretty close....
---
---
Get Free Email Updates! Yes please!
---