Peanut Butter and Jam Cookies (Vegan and Gluten-Free)
I am not on a gluten-fee vegan kick right now, but there are some great recipes coming from that crowd.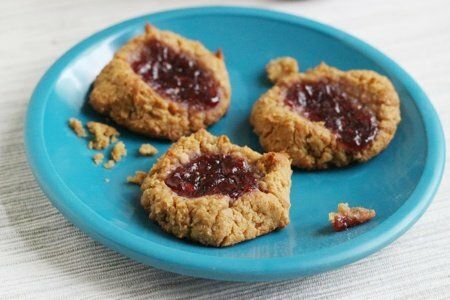 I like them because they don't use butter (saturated fat), are easy to make, and taste really good. At a café in San Francisco, I tried my first "gluten-free vegan" dessert and got ready to gag – and it was as good as a gluten-filled butter bomb (seriously).
These cookies are a great replacement for Fig Newton's. If you use fig jam, Bonne Maman puts out a Fig Preserves, you will get a close approximation of the famous cookie.
The flour here is replaced by canned chickpeas, the butter by peanut butter (or any nut butter you like), and the sugar by agave syrup.
These cookies would be a killer after school snack because your kids could make them for themselves and they go great with coffee (not too sweet).
Are you trying to cook without gluten and butter? Please share.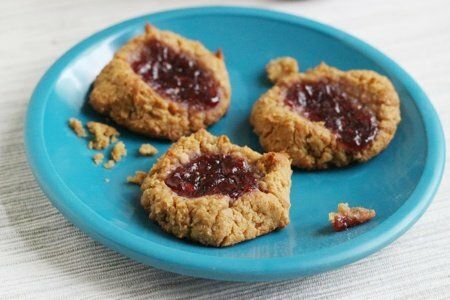 Peanut Butter and Jam Cookies Recipe

Makes 20 cookies

Ingredients
1 15-ounce can chickpeas, drained and rinsed
½ cup nut butter (peanut, almond, sunflower, etc.)
2 teaspoons vanilla extract
¼ cup agave syrup
1 teaspoon baking powder
¼ cup rolled oats (certified gluten-free if necessary)
¼ cup jam, your favorite flavor

Instructions
Heat oven to 350 F. Line a baking sheet with parchment paper. Add chickpeas, nut butter, vanilla, agave syrup, baking powder, and rolled oats to a food processor. Blend until beans are pureed.
With wet hands, roll the dough into one-inch balls and place on the baking sheet. Press your thumb into the balls and spoon jam into the indentation. The space should fit about 1 teaspoon of jam.
Bake for 18-20 minutes until cookies are firm.
Nutrition Facts
For one cookie = 91 calories, 3.5 g fat, 0.7 g saturated fat, 12.6 g carbohydrates, 3.8 g sugar, 2.9 g protein, 0.5 g fiber, 78 mg sodium, 2 Points+
Points values are calculated by Snack Girl and are provided for information only. See all Snack Girl Recipes
Other posts you might like:
---

So, you like to bake - but you have a problem. Yes, I know that problem well.....
---

Snack Girl has been refining her chocolate chip cookie recipe. It is a tough job - but I am willing to make the sacrifice....
---
---
Get Free Email Updates! Yes please!
---