Chocri Chocolate Giveaway
Did I just say "Chocolate Giveway"? Hurray!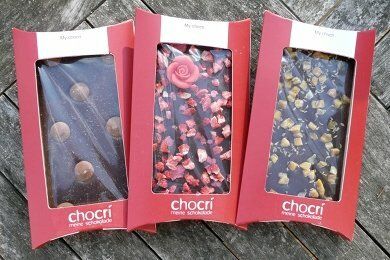 Seems our good friends over at Chocri want to give 2 Snack Girl readers a $20 gift certificate for a lovely chocolate bar. (of course, I would love to send you ALL free chocolate - maybe next year :)
Chocri is the chocolate company that allows you to create personalized chocolate bars by adding your own toppings. I reviewed Chocri bars last year (see: Customize Your Healthy Chocolate Treat) and I loved them.
Why is Snack Girl featuring chocolate? Well, high quality Dark Chocolate is good for you! The problem is portion control. And, as well all know, chocolate consumption can get out of hand.
This chocolate bar doesn't come cheap. It starts at about $9 and then you start adding the toppings.
The good news is that can be 6 servings - and because it is more expensive (and more tasty) than your average chocolate bar, you will be able to stop yourself from eating the whole thing in one sitting.
Savoring expensive chocolate is a great way to give yourself a treat.
Go on over to Chocri and start creating your chocolate bar.
To enter the giveaway: comment below about the toppings you would use to make your chocolate bar.
This product was received for review consideration. No other compensation was provided.
---
What will I win?
An $20 gift certificate to Chocri
How do I enter?
Comment below on your favorite toppings from Chocri.
Additional Ways To Enter:

Follow Snack-Girl on FaceBook.

Comment below on your favorite toppings from Chocri.

Follow Snack-Girl on Twitter

Tweet this post (use the Tweet Button in the Share Box at the top of this post).

Snack-Girl can follow and count all the additional entries using magical website tools.
Am I eligible to enter?
This giveaway is offered to US residents only.
When do I find out if I am the winner?
The two winners will be announced on December 28th, 2010. You will have 2 weeks to e-mail us back with your home address so we can mail the prize.
---
Want to read about snacks?
Don't Forget This Classic
Are Whole Wheat Ritz Crackers Healthy?
Love Sliders? Here Is A Healthy Version
Leaving Santa Cookies? Try This Instead!