Don't Forget This Classic
Out of fresh fruit? Can't make it to the store?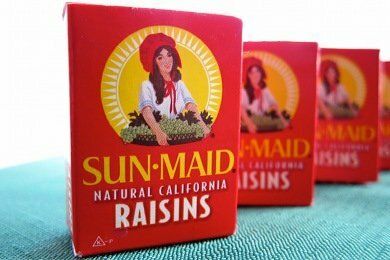 Hopefully, you grabbed some of these Sun-Maid raisins when you last visited the supermarket.
These mini boxes of raisins are considered a treat in my house. My kids adore getting these little red boxes in their lunch boxes.
When I was a kid, I loved getting them, too. Seems that Sun-Maid has been selling these cute boxes of raisins since 1915!
They can be found in the dried fruit section of the supermarket. I have wondered why they aren't on the snack aisle next to the Fruit Snacks. As opposed to fruit snacks, which are fruit juice and sugar, raisins are actually fruit!
It seems the Egyptians ate raisins 2000 years ago (I wonder if they ate fruit snacks :)
Back in my article on DIY Packaging Tricks For Healthy Snacks, I talked about the power of marketing. When I passed these raisins in the supermarket, my children saw the strategically placed picture of Shrek on the bag.
Am I going to give in to their desire to have a 45 calorie box of raisins in their lunch box? And look like SUPER MOM for getting them what they want?
You betcha!
I know there are parents out there who don't like the amount of sugar in raisins. But, remember, this isn't candy.
Raisins feature fiber, iron, and anti-oxidants while candy has zero nutritional value. I adore that my kids love these and consider them a treat.
These are great for adults, too. No reason you can't toss a few boxes in your purse, briefcase or backpack for a sweet snack. Perhaps you will reach for them instead of a cookie!
45 calories, 0 g fat, 11 g carbohydrates, 0 g protein, 1 g fiber, 0 mg sodium
Do you love Sun-Maid raisin snacks?
Want to read about snacks?
A Holiday Snack From Bran Appetit
Are Whole Wheat Ritz Crackers Healthy?
Heavenly Fresh Ginger Cake From David Lebovitz
Leaving Santa Cookies? Try This Instead!