A Whole Grain Snack For Five Cents Per Serving
Can you say popcorn? This stuff is simply dried corn and if you manage not to drown it in butter, super healthy.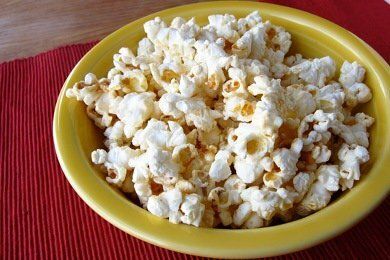 Pam, a reader just sent me this question:
I love popcorn, how good is it for you?
SO GOOD! It has fiber, protein, and very few calories for the volume of food that you get to eat. I eat popcorn at least once a week.
THREE cups of air-popped popcorn is:
92 calories, 1.0 g fat, 18.7 g carbohydrates, 2.9 g protein, 3.6 g fiber, 1 mg sodium, 2 Points+
Of course this nutritional assessment is BEFORE you add anything to it, but you can see that this is a healthy low calorie snack.
We used to pop popcorn on the stove in a couple tablespoons of oil before we learned some new tricks (and you don't need an air popcorn popper).
If you have a microwave oven, you can make popcorn with just a paper bag see: DIY Microwave Popcorn: Healthy, Yummy, and CHEAP. You can also buy the bowl featured below (reuse!) and pop it in there without any oil.
Both the bag and the bowl turn out great tasting popcorn (you won't miss the oil or the flavored packaged stuff). You just have to be very careful not to burn the popcorn. In the bowl, it takes about two minutes and thirty seconds to pop 1/4 cup popcorn.
I happen to love butter and salt on my popcorn, but I had to face a hard cold reality. If I use two tablespoons of butter, I am adding 204 calories and 23 grams of fat, so I try to not do that.
There are a bunch of different ways to flavor popcorn that don't include butter. How about:
Chili powder and lime juice
Old Bay Seasoning (seafood seasoning)
Curry powder
Nutritional yeast
Here are some Snack Girl favorites:
How do you make and flavor your popcorn?
---
$15.99 ($15.99 / Count) $14.99 ($14.99 / Count) Buy on Amazon.com
As an Amazon Associate I earn from qualifying purchases.
---
Other posts you might like:
---

Popcorn is a whole grain snack that is really low in calories and has that great crunch we crave. But, the packaged stuff in the supermarket is expensive and can be high in sodium....
---

Kettle corn has that perfect combination of crunchy, salty, and sweet that keeps you eating it long after you should stop....
---