Are Quaker Real Medleys Real Food?
I love how Quaker uses the word "real" because it makes you think the product isn't fake.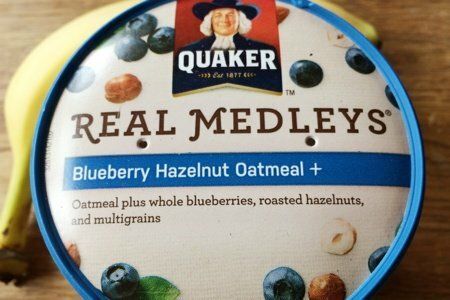 At this point, I think we all know great marketing when we see it. A reader asked me to take a look at these instant oatmeal packages and I was excited by the challenge.
From Jennifer:
I was wondering what you thought of Quaker Real Medleys? I tend to eat one of those with some fruit for lunch (yeah, I know I should add in some veggies at lunch somewhere, lol). But for conveniences sake, these do the trick. I like the Peach Almond Oatmeal and Summer Berry Oatmeal the best.
The first thing I do with a packaged food like this (cereal, granola bars, breakfast bars) is look at the grams of sugar per serving. These proved to be very interesting because the peach almond oatmeal – 19 grams of sugar – was not as good as the blueberry hazelnut oatmeal – 13 grams.
Six grams is just over one teaspoon of sugar. I find the blueberry hazelnut acceptable but the peach almond is too high. One of the problems evaluating these types of foods will be addressed by new food labeling standards. Much of the sugar here is due to either the blueberries or the peaches – but how much did they add? Hard to know.
The ingredient list for the blueberry hazelnut:
WHOLE GRAIN ROLLED OATS, MULTI GRAIN BLEND (WHOLE GRAIN ROLLED OATS, ROLLED BARLEY, WHOLE GRAIN ROLLED RYE), BROWN SUGAR, WHOLE GRAIN ROLLED WHEAT, DRIED BLUEBERRIES, HAZELNUTS, SUNFLOWER OIL, NATURAL FLAVOR, BUTTERMILK, SALT, CITRIC ACID.
and the nutrition facts:
270 calories, 7 g fat, 1.0 g saturated fat, 49.0 g carbohydrates, 13 g sugar, 7 g protein, 5 g fiber, 240 mg sodium, 7 Points+
I like the fiber, but I don't like the sodium. That seems like a lot for oatmeal.
The concept is great – whole oats, nuts, and dried fruit – and those ARE the ingredients so I deem this real food.
My problem with this, other than the price ($1.50 for one container) was the taste and texture. When I first made it, it was literally like eating GLUE. I decided I had done something wrong (Snack Girl is an idiot at following directions) and read on the package "adjust water for desired thickness". I added more hot water and it got much better but it still didn't taste great. It was edible but I wouldn't buy another one.
My thought for Jennifer is that these are good in a pinch but what would be better is to do the "Starbucks" oatmeal on your own.
Here is the plan:
1. Buy instant oatmeal in a large package.
2. Put oatmeal (as much as you eat) into a stainless steel Thermos.
3. Pack up some raisins, chopped dried apricots, almonds, walnuts, hazelnuts, dried blueberries, brown sugar….
4. Make the plain oatmeal and then add yummy stuff.
I would also add peanut butter because I like an extra dash of protein to my oatmeal.
What do you think of Quaker Real Medleys?
---
Other posts you might like:
---

Last week, I posted What You Need To Know About McDonald's Oatmeal. Immediately, I was asked about Starbucks' oatmeal....
---

Do you have time to make real oatmeal? I didn't think so.
---