Potato Chip CRUNCH For One Calorie
Fresh produce is rolling into supermarkets and farmer's markets all around the country. June is a fantastic month for healthy eating and these little jewels jumped into my car.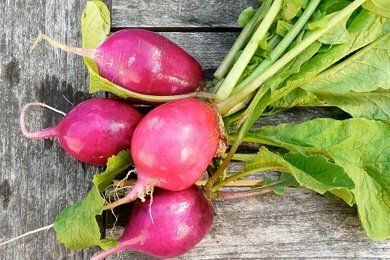 Yes, I live near farms. This is a new situation for me because I have lived in cities most of my life. I gave up the city for the country because of many reasons, but one benefit of living here is the proximity to farm stands.
Another benefit of living in the country is the fragrant smell of manure :)
I was driving to a dentist appointment because I had to fill a cavity (yes, even Snack Girl gets cavities). And, I saw a chalk sign by the side of the road - RADISHES - it proclaimed. I turned the car around as quickly as I could and purchased this lovely bunch.
Fresh radishes, pulled out of the ground that morning, are a delight. I know what you are thinking (radishes, yuck!), but you have to try them.
They are a ZERO food for Weight Watchers (which means you can eat as many as you want). They are also much mellower tasting when they are fresh.
They have a slight bite to them - a bit of spice - and they CRUNCH. I love radishes so much, I created a bumper sticker for my car that you can see and purchase here:
Look under the Gifts tab - and for a mere $5 (plus shipping) - you can adorn your vehicle with this catchy phrase I Brake For RADISHES. Everyone in your family is going to want one!
I have seen them served with butter and salt (which ruins their low calorie status - but is truly divine). Add them to your salads, lunch boxes, or just cut them up and eat them.
I sincerely hope that I have convinced you to give them a try next time you are in the produce aisle!
How do you serve radishes?
Want to read about snacks?
DIY Popsicles: A Happy, Healthy Snack
A Kid's Energy Bar for Lunch Boxes and Adults
Energy Bar Recipe
Jamie Oliver's Delicious Cheesy Corn