Healthy Halloween Candy?
Is there a brand of candy that you can feel good about putting in a child's plastic pumpkin? Is it worth the risk of getting your house toilet-papered to hand out boxes of Raisins?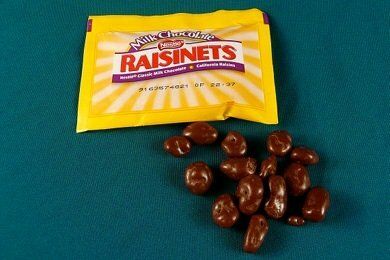 The problem is that candy is a treat. It is not supposed to be healthy and there really isn't any way to get around it.
The folks at Nestle would like you to believe that their Raisinets are better than the rest of the choices such as Snickers, Gummy Bears, and/or M&M's. Raisinets packaging includes that it is a natural source of fruit antioxidants and has 30% less fat than the leading chocolate brands.
Raisinets do have on average 10 calories less per fun size than other chocolate candy, but it still doesn't make them healthy.
Are Raisinets any better than other Halloween candy? Maybe just a little. Raisins are a healthy snack - read about them here: Raisins.
The most healthy candy would be a package of Dark Chocolate Covered Raisins. Then you would be getting the goodness of dark chocolate and raisins without alot of sugar. I doubt that Nestle could produce such a candy at Raisinets' current price point.
Until then, just let your kids have their treat. Also, keep in mind that most fun size packages of candy are around 100 calories, and I bet your kid can eat at least 4 or 5 in a sitting.
Keep giving them the message that candy is not an every day food and should be savored.
Do you have any ideas for healthy Halloween treats?

Want more like this?
Whopping full of calories
Save them for celebrations
Jewels of junk food with added peanuts