Take A Walk On The Raw Side With Asparagus
You know that you are dull if the most exciting part of your week is eating raw asparagus for the first time.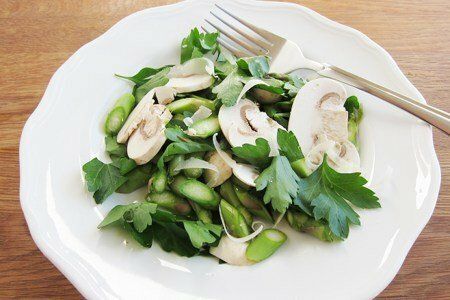 That's right, readers, I am boring. I will say that I was digging deep to find a new recipe for asparagus for our recipe swap, and I am thrilled that fresh asparagus is rolling into the supermarkets.
I didn't think I would like raw asparagus because it would be too tough to eat. Boy, I was wrong. If you slice it thinly enough, it is crunchy, a little softer than a carrot.
I saw a similar salad in my Sunday paper and this turned out so amazing it might be my new favorite asparagus dish. It is like Springtime in your mouth. Seriously. The flavors are bright and the texture is both crunchy and soft (because of the mushrooms).
Buy asparagus that has fat stalks, if you can find it. It will make it easier to slice up. Be sure to peel the ends if they are tough. My asparagus was medium sized and I didn't have to peel it.
If you have a block of Parmesan lying around, shaved cheese is a great addition to the salad. Take out your vegetable peeler and make some cute curly bits to put on the top for a garnish. Yum!
Here are the other asparagus recipes on Snack Girl:
Please share your favorite asparagus recipes.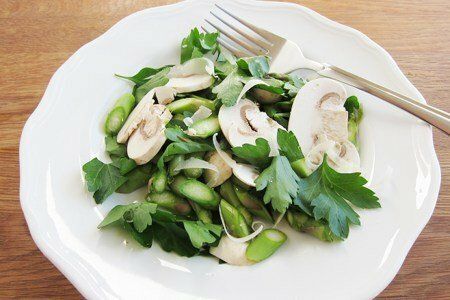 Raw Asparagus Salad Recipe
Makes 4 servings
Ingredients
1/2 pound asparagus, tough stems removed
1 cup flat-leaf parsley leaves
4 ounces white mushrooms, thinly sliced
1 tablespoon olive oil
1 tablespoon lemon juice
salt and pepper to taste
shaved parmesan cheese (optional)
Instructions
Slice the asparagus very thin on a diagonal to create thin oblong slices. Add the asparagus, parsley, and mushrooms to a salad bowl. Dress with olive oil and lemon juice and adjust flavors with salt and pepper.
Without cheese:
Nutrition Facts
54 calories, 3.8 g fat, 0.6 g saturated fat, 4.2 g carbohydrates, 1.8 g sugar, 2.6 g protein, 2.0 g fiber, 12 mg sodium, 2 Points+
Points values are calculated by Snack Girl and are provided for information only. See all Snack Girl Recipes
Other posts you might like:
---

Here we are in March, baby. Grab yourself some cabbage....
---

Last month, I featured a recipe swap with carrots as the featured vegetable. Thanks so much for sharing your recipes.
---
---
Get Free Email Updates! Yes please!
---