Savory Corn Meal Waffles For Dinner
We all get into major cooking ruts where the question, "What's for dinner?" begins to try us crazy.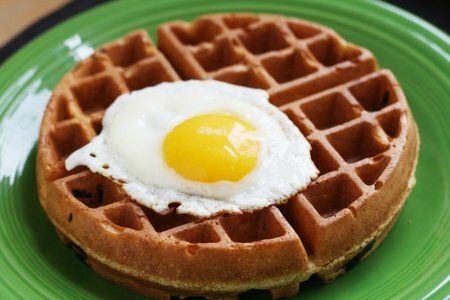 My husband has been working a lot lately and most of the cooking is falling to me. I am not complaining, but I am uninspired. Even someone like me, who works with food every day, gets bored cooking the same stuff.
I have seen other takes on breakfast for dinner and I didn't find them compelling. I can't imagine eating pancakes with syrup for dinner – but I can imagine eating something salty – like a savory waffle for dinner.
This pairing of fried eggs and corn meal waffles reminds me of grits and scrambled eggs. The taste combo is distinctly Southern and delicious.
I made the waffle batter the night before I was going to serve them so all I had to do was walk in the door and heat up my waffle iron. My waffle iron is pretty nice because I love making waffles. I upgraded from a $15 version from Walgreens a couple of years ago and I haven't looked back.
You can serve these so many different ways. Here are a few ideas:
Put a salad on top with a vinaigrette salad dressing.
Top with tomato sauce and sautéed spinach.
Add roasted broccoli and cheese and run under the broiler.
Do you have a version of breakfast for dinner? Please share.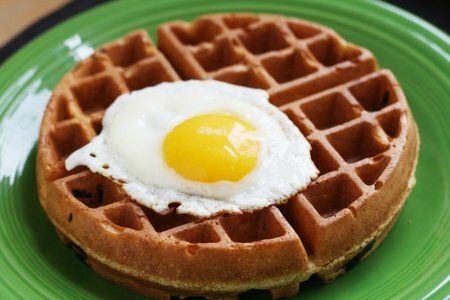 Savory Cornmeal Waffles Recipe

Makes 4 large waffles, ½ waffle per serving

Ingredients
1 ¼ cup stone ground yellow cornmeal
¾ cup all-purpose flour
½ cup white whole wheat flour or whole wheat flour
2 teaspoons baking soda
1 teaspoon baking powder
1 teaspoon sugar
½ teaspoon ground black pepper
¼ teaspoon ground cayenne (optional)
2 cups buttermilk
2 eggs
2 tablespoons butter, melted

Instructions
Heat up your waffle iron according to appliance directions.
Mix corn meal, all-purpose flour, whole wheat flour, baking soda, baking powder, sugar, black pepper, and cayenne in a large bowl. Add buttermilk, eggs, and melted butter and mix until well blended.
Make waffles immediately (mine take 4 minutes to cook in my waffle iron) or store batter for later.
Nutrition Facts
For ½ of large waffle = 205 calories, 5.4 g fat, 2.6 g saturated fat, 32.7 g carbohydrates, 3.9 g sugar, 7.2 g protein, 2.5 g fiber, 422 mg sodium, 5 Points+
Points values are calculated by Snack Girl and are provided for information only. See all Snack Girl Recipes
---
$59.99 Buy on Amazon.com
As an Amazon Associate I earn from qualifying purchases.
---
Other posts you might like:
---

A couple weeks ago, Snack Girl flamed Taco Bell's new waffle taco....
---

Snack Girl knows how hard it can be to eat a healthy breakfast in the morning. I frequently get to work and feel like putting my head on my desk....
---
---
Get Free Email Updates! Yes please!
---