The New Bacon and Eggs?
Snack Girl was cruising her supermarket when she saw these packaged hard-boiled eggs and shelf stable bacon.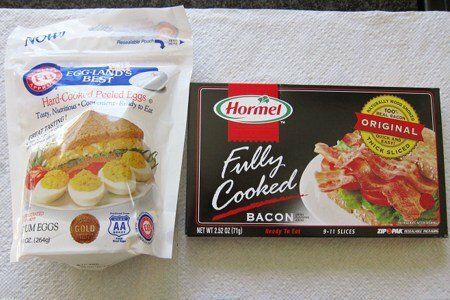 Really?
Are we to the point that we don't have time to hard boil eggs or fry up bacon? I found myself terribly curious about whether these were real food or if they were yet another science experiment.
Both of them are about twice the price of an uncooked version. Six hard boiled eggs cost me $3.29 and 2.5 ounces of cooked bacon (9-11 slices) was on sale for $3. You are paying a premium for the time saved.
What if you have the money for these products? Are they any good?
First, the bacon. I happen to love bacon, but I eat it rarely because of the high fat and sodium content. You will find me with a BLT when tomato season hits. Yum!
This is a photo of the bacon: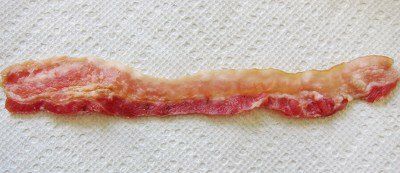 Yeah, so it looks like cooked bacon, it tastes like cooked bacon, and the ingredients are the same as uncooked bacon. You can heat it up in the microwave to make it hot and crisp or in a skillet (but I'm not sure what the point of that would be).
My only complaint is that now it is easier to eat bacon, which given the state of the American diet is probably not a good thing.
Now, the eggs. I also love hard boiled eggs, egg salad, and deviled eggs. I make hard boiled eggs often and have one as a morning snack to keep me going until lunch. The ingredients for the packaged ones are: eggs (processed in citric acid and sodium benzoate)
My eggs are: eggs (processed in boiling water). You can tell the difference. I found the packaged ones rubbery and then there was a bitter, strange after taste. I would not buy these again. They missed by a mile on both flavor and consistency.
Citric acid is naturally occurring in lemons and sodium benzoate can be found in factories. There are some health concerns with sodium benzoate see -Fooducate analysis of sodium benzoate.
With the shelf stable bacon, you are going to miss out on the smell and crackle of making it yourself. I happen to love it when my house is all porky.
The hard boiled eggs should be avoided at all cost. If you love them and don't have time to make them, try the egg cooker below.
Have you tried these convenience foods? What do you think?
---
$38.49 Buy on Amazon.com
As an Amazon Associate, I earn from qualifying purchases.
---
Other posts you might like:
---

Snack Girl has been trying frozen meals for a couple of months to see if she can find a meal that is healthy, delicious, and relatively low in calories....
---

Guess what I did yesterday? BUUUUURRRRRPPPP....
---